As 2021 passes us by, we look back at the year that was and how we pushed forward making new breakthroughs, discoveries, collaborations and continued to conduct research at the highest level.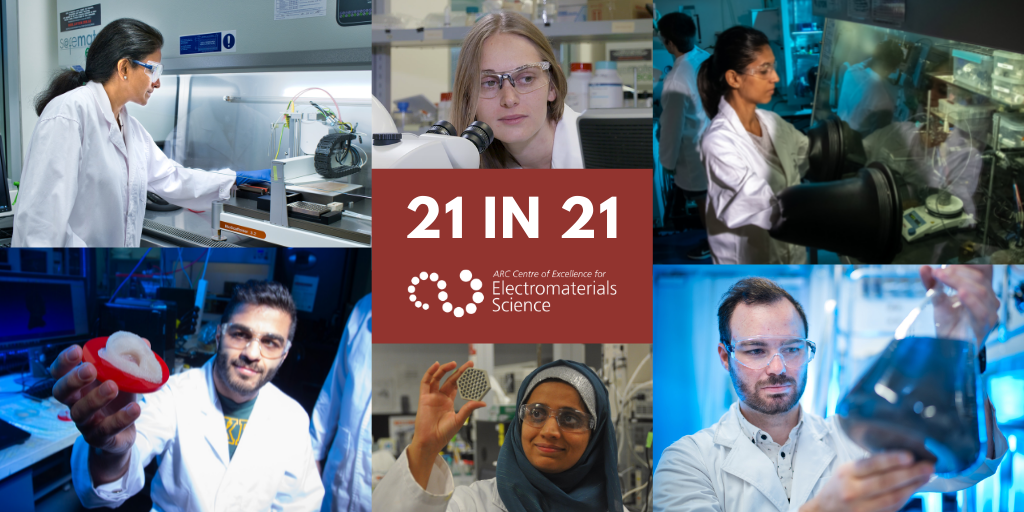 Below are 21 highlights from 2021, including our podcast, online events, announcements, awards and more.
Season 2 of The ACES Podcast: The podcast was back for another season, featuring Prof Gordon Wallace, A/Prof Bruce Ashford, Dr Frederic Gilbert and many more guests. Listen over the holiday break.
ACES Webinar Series: In addition to our podcast, the Webinar Series was back as well. Catch up on all of the recordings to learn more about topics such as writing a great paper, getting ideas to industry, research performance metrics and more.
Finland and India receive 3D REDI printers: Wollongong-made bioprinter 3D REDI, developed at the Translational Research Initiative for Cell Engineering and Printing (TRICEP), hit the global stage.
ACES Legacy Symposium: ACES Alumni are the greatest part of our legacy, and many joined with us to mark this special occasion to share their research and to reflect on their time with the Centre over two days online.
BaTriHub 2.0 announced by Victorian State Government: The Victorian State Government announced a $34.9 million plan for a new battery facility and hydrogen hub at Deakin University with a focus on clean, green energy.
Jupiter Ionics – Green Ammonia: ACES researchers pioneered a new application of ionic liquids that is poised to have a significant impact on the renewable energy industry.
Fish skin for 3D printing: Working with local fish processors, ACES researchers demonstrated the utility of fish skin as a source of collagen for 3D printing.
2021 Leon Kane-Maguire Address: Delivered by a panel of special guests, including Prof Geoff Spinks, Prof Julie Steele, Prof David Officer and Dr Toni Campbell, this annual event celebrated research and collaboration.
Celebrating International Women's Day (IWD) 2021: We celebrated IWD 2021 at ACES, helping to forge a gender-equal world by raising awareness for equality.
Ulvan for wound healing collaboration with Venus Shell Systems: Working with the seaweed farming industry (Venus Shell System), ACES researchers proved the pathway to identify and extract valuable biomaterials for tissue engineering from primary sources.
2021 Bill Wheeler Symposium and Award: We brought scientists, clinicians and the community closer together for the 2021 Bill Wheeler Symposium, featuring guest presenter and local surgeon A/Prof Bruce Ashford.
A handheld device to detect cancer biomarkers: ACES researchers at Swinburne University of Technology worked on the development of an electrochemical handheld device with the ability to detect cancer biomarkers through blood pricked from the finger.
ACES researchers progress ground-breaking electroceutical research: The Sutrode continued to revolutionise the field of electroceuticals.
New paper explains the risks and benefits of mHealth: ACES Ethics, Policy and Public Engagement Research Fellow Dr Mark Howard explained why a technocentric approach to healthcare, shaped by technology corporations and an emerging digital health market, risks undermining the real clinical potential of mobile health (mHealth).
Dr Natalie Ralph explores frameworks for circular economy design for renewable energy technology: ACES Associate Investigator Dr Natalie Ralph addressed the design of renewable energy technologies and their related circular economy systems in a paper published in the Journal of Cleaner Production.
SEE Labs compete in ClimateLaunchpad Global Finals: Following the success of last year's Team ElevenStore, Deakin University researchers created SEE Labs and progressed to the Global Finals.
Biofabrication 2021: The International Society for Biofabrication's (ISBF) annual conference was held virtually, bringing together researchers from all over the world. Hosted online in Australia, Biofabrication 2021 had over 400 people registered for the conference and 17 different countries represented by attendees.
'Building prosperous, just and resilient zero-carbon regions' conversation: As part of the launch of the new Melbourne Climate Futures, a discussion paper by ACES PhD candidate Linda Wollersheim and Prof John Wiseman was published.
World-first consortium to fight global corneal blindness: An Australian consortium brings together all of the skills needed to tackle the challenge involved in creating a bioengineered cornea.
UOW graphene discovery to fast-track the new energy revolution: Can you imagine a form of graphene that is both highly processable and highly conducting? We did, and we called it Edge Functionalised Graphene (EFG).
Various 2021 ACES Awards:
The list of course goes on and on… This is only a small number of the many outstanding accomplishments from this year.
Well done and congratulations to all who contributed to yet another great year at ACES. We now look forward to the new year and the upcoming ACES Impact Symposium, set for February 17-18. More information to come soon.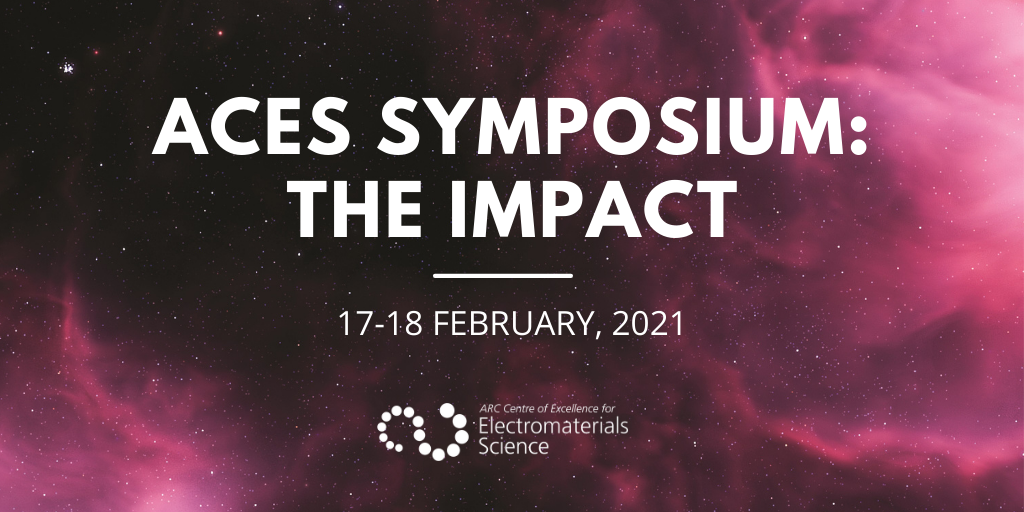 Who we collaborate with