Australian Academy of Science Fellow Prof Huijun Zhao returns to IPRI
University of Wollongong (UOW) and Intelligent Polymer Research Institute (IPRI) Alumni Prof Huijun Zhao was back at our headquarters recently, returning for a tour of the facilities where his career in research started.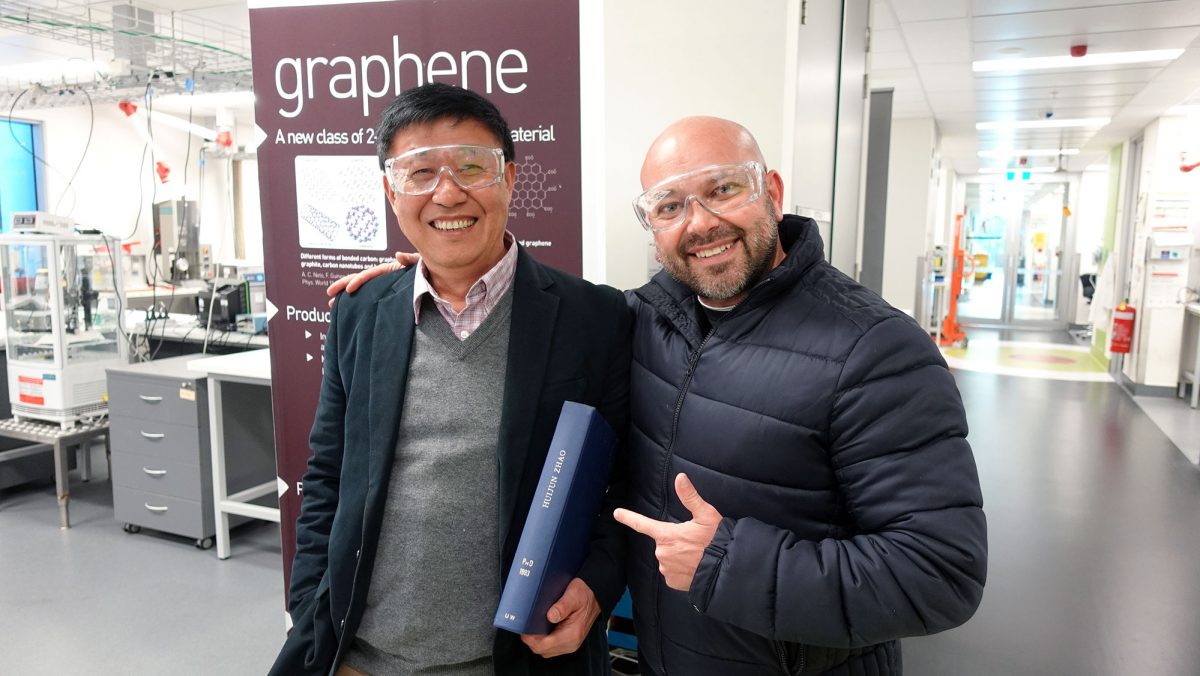 Now the Director of the Centre for Catalysis and Clean Environment and Energy (CCEE) at Griffith University, Prof Zhao once completed his PhD in chemistry with IPRI in 1993. The visit came after newly being honoured with an election to the Australian Academy of Science.
During his time back on campus, we caught up with Prof Zhao for a chat about the accomplishment, his time at UOW, current work and more.
You completed your PhD here back in 1993. How was that experience and what did you research?
I was fortunate to be one of the early members of the Intelligent Polymer Research Institute, led by Prof Gordon Wallace. I have to say that it was the most important and joyful period of my life. Gordon's excellent supervision and mentorship, and IPRI's supportive environment, enabled me to accumulate critical knowledge, gain research skills and build the confidence that has laid a firm foundation for my career.
IPRI brought me a lot of joy. It was an environment full of teamwork where we would all help each other. We would celebrate each other's success together, play soccer together, have meals together and, of course, attend seminars and conferences as a group.
As for my research at IPRI, it was mainly focused on the development of conducting polymer membrane system to achieve controllable transport of electro-active and electro-inactive ionic species.
Could you tell us a bit about your current work?
My research at Griffith University has been focused on functional materials for energy conversion, storage, environmental remediation and sensing applications, water source control and management, and field-based sensing technologies. One of my current pursuits is to explore new means to unlock the catalytic capabilities of nonprecious materials as high-performance catalysts for important catalysis reactions.
You were recently elected Fellow of the Australian Academy of Science. Congratulations! What does this achievement mean and how did it come about?
I am very honoured and humbled to be an Elected Fellow of the Australian Academy of Science. This is a recognition not only of my contribution to science, but of my team as well.
I pursued a career in research because I am passionate about science and enjoy the joy of solving challenges. My scientific achievements come from solving the pressing challenges in my field of research. Of course, every challenge requires innovation, dedication, and teamwork to resolve.
What was the best part about your recent visit here?
I really enjoyed my time back at IPRI and was extremely impressed by IPRI's vison and research capability, especially the real world-application-orientated coherent biomaterials processing capability.
Great to hear! Thank you for your time, Huijun – and once again, congratulations.
Who we collaborate with