Jupiter Ionics: Green Ammonia
ACES researchers are pioneering a new application of ionic liquids that is poised to have a significant impact on the renewable energy industry.
Jupiter Ionics P/L was founded in 2021, and is developing breakthrough technology for the production of green ammonia, based on this ACES research.
Jupiter Ionics (the atmosphere of Jupiter is substantially ammonia) utilises an electrochemical process developed by ACES researchers to produce ammonia by reducing nitrogen extracted from the air, and combining it with hydrogen extracted from water – powered by renewable electricity.
Ammonia is one of the most widely produced chemicals worldwide, mainly used in agriculture as fertiliser, and has transformed global food production in order to meet the needs of our growing world population. However, the current production of ammonia using the Haber-Bosch process requires high temperatures and pressures, a large amount of fossil fuels, and results in a significant amount of pollution.
With ammonia manufacturing for fertiliser responsible for approximately two per cent of global carbon dioxide emissions, the ACES solar fuels team identified in 2014 that nitrogen reduction to ammonia could play a key role in developing a sustainable method to produce ammonia and support the renewable energy industry.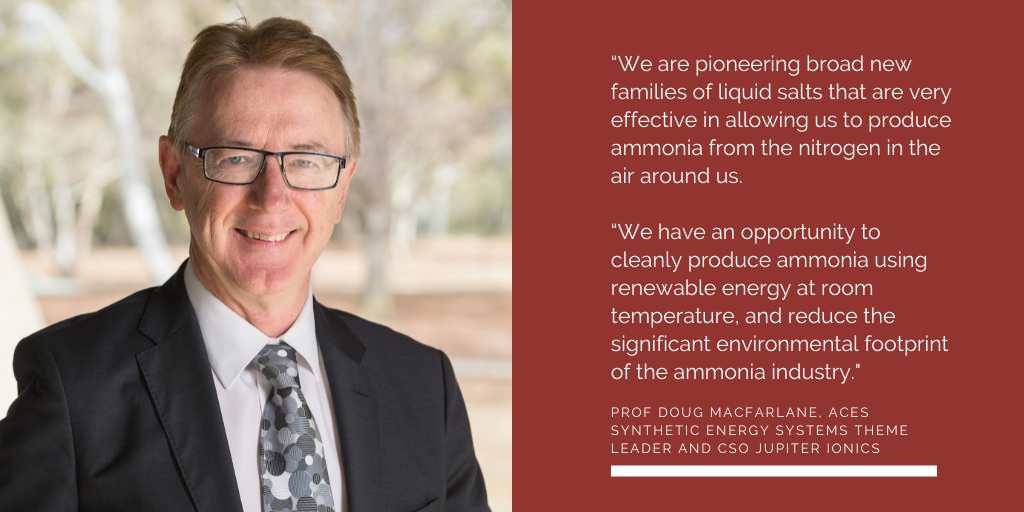 ACES researchers recognised that the major challenge in nitrogen reduction was the poor solubility of nitrogen gas in water (along with most other solvents). To address this, the group investigated the use of ionic liquids – salts that are liquid at room temperature – as solvents for the process to produce ammonia.
After more than two years of painstaking research, the work was published in Energy and Environmental Science, with a series of patents on the electrolytes and electrocatalysts that support the process also produced during this time.
From here, the ACES team's research success continued to grow, buoyed by recent interest from researchers, industry and government to develop the cleanest, most efficient processes to generate ammonia from the nitrogen in the air and water around us. In 2018, the team received a $2.5M ARENA (Australian Renewable Energy Agency) grant to scale up the group's work using ionic liquids for ammonia production. In 2020 (despite most of Australia being in lockdown due to COVID-19), the group achieved a number of impressive results utilising a special kind of phosphonium salt as a proton carrier. This work was the subject of further patents and published in Science in June 2021.
These breakthroughs and other progress in the scale-up effort proved the process was practical for commercialisation, and Jupiter Ionics was formed, with $2M investment from Monash Innovation and several generous Melbourne family investors. Following the publication of the Science paper, the team received further enquiries from overseas, which will form part of the next round of fundraising to propel the team's work. The company will focus on scaling up and demonstrating the process at scale.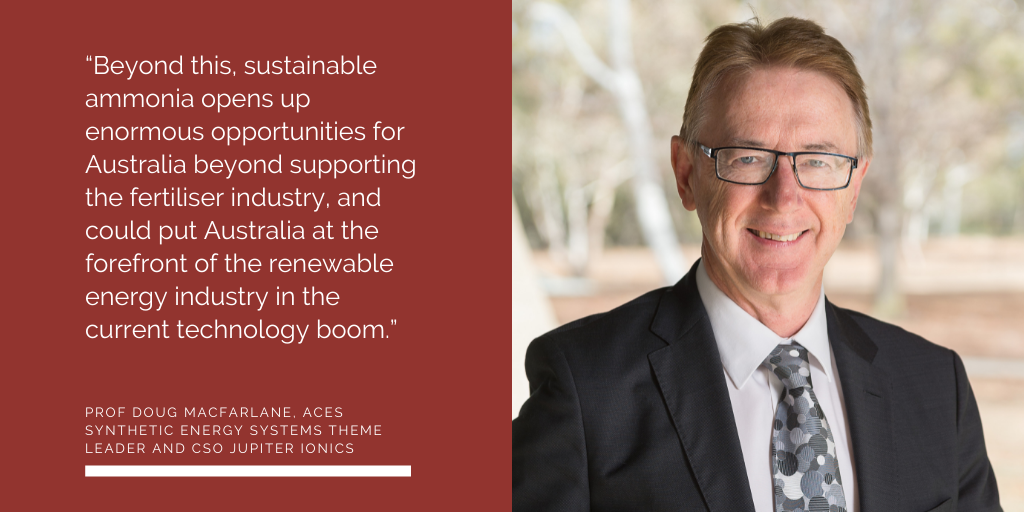 Who we collaborate with