A visit for the community on IPRI Open Day to celebrate Science Week
Science Week is always an exciting time at ACES headquarters…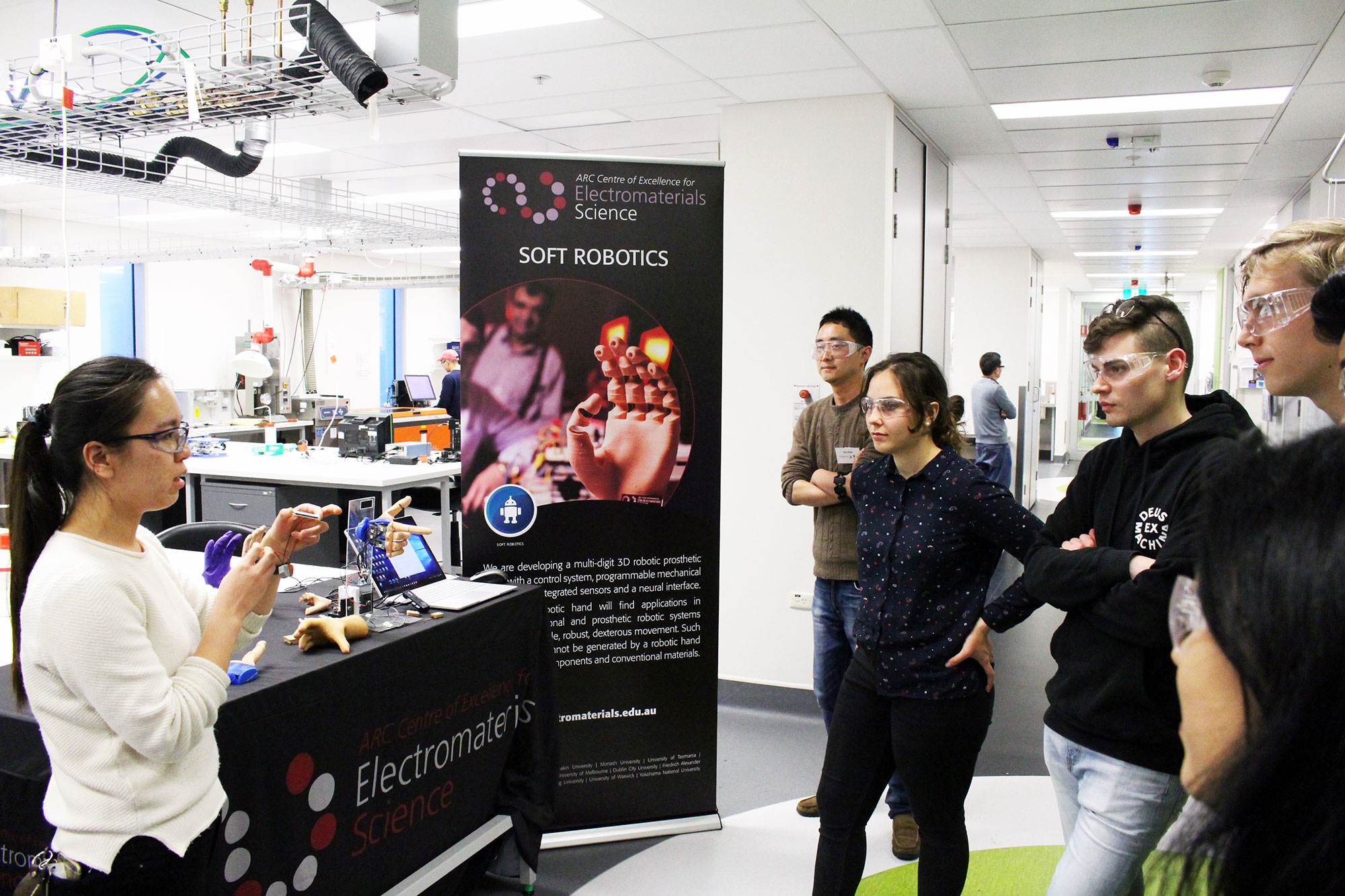 Some inspiring #ScienceWeek quotes from our researchers popped up on social media.
Prof Peter Choong from St Vincent's Melbourne and the University of Melbourne visited to inspire us with his vision (so close now to a reality) for neurally driven prosthetics.
We welcomed collaborator Prof Peter Choong from @StVincentsMelb to ACES today to give a talk on neurally driven prosthetics. #ScienceWeek @Aus_ScienceWeek @GordonGWallace @TRICEP_AU @UOW @AnffMaterials @uowresearch @unimelb pic.twitter.com/ItPaiIBY9I

— ACES (@ARC_ACES) August 13, 2019
The 2019 Bill Wheeler Public address from Prof Gerard Sutton from Sydney Eye Hospital, Lions Eye bank and University of Sydney provided an insight for the audience on the latest research into corneal regeneration (prevention is still better than any cure!). The Bill Wheeler award recipients from 2018 and 2019 gave updates on how this generous award had benefitted or will benefit their research journey.
Congratulations to the 2019 Bill Wheeler Award winner for Research in Bionics, Chunyan Qin. #ScienceWeek @GordonGWallace @UOW @uowresearch pic.twitter.com/YT3caVTgeA

— ACES (@ARC_ACES) August 15, 2019

Then we need to mention ABC Illawarra's chat with our ACES PhD student Alex Nagle, about his project and thoughts around studying with ACES here at the University of Wollongong (read our interview with Alex here).
Adding to the fun and amongst other exciting events, Science Week is also the time of year for our annual IPRI Open Day, a day for the community to tour our labs and to see the latest research happening at our ACES headquarter.
Like previous years, Open Day, held last Thursday, saw over 40 visitors walk the halls of our labs to gain a better insight into exactly what we do at ACES, with our researchers and students on hand to explain what was on show in detail and to answer any questions from the community walking through.
Below are some photos we captured throughout the day – and for those interested in studying with us in the future please tour our labs and be sure to register for our upcoming Student Open Day.
Until next year…
Who we collaborate with