Professor Maria Forsyth in San Sebastian – Part 3
Associate Director of ACES, Maria Forsyth, has been forming some strong international connections during her time in Spain. Prof Forsyth tells us more of her work at POLYMAT in San Sebastian…
Did you miss the past two installments of Prof Forsyth's blog? You can read them here and here.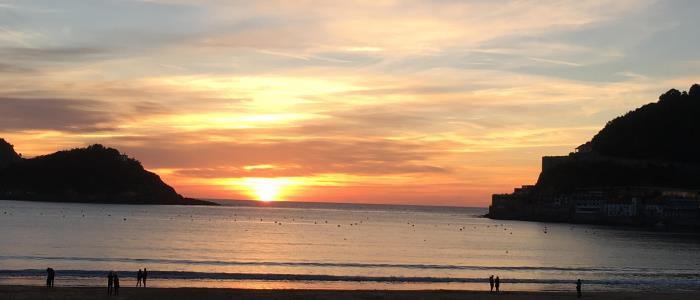 Hola Amigos!
So back to scientific interactions here in San Sebastian.  In addition to our strong collaborations with UPV and CIC energiGUNE, Deakin has established a research connection with Tecnalia after initial visits by myself and our previous DVC-R Professor Lee Astheimer in October 2013 and a follow up visit by a Deakin, IFM led delegation in 2014.
During the second visit  a joint scientific workshop was held to establish potential collaboration areas and this led to an eventual signing of an MoU. There is strong synergy  between several Tecnalia research programs and IFM, in particular in membranes for gas separation and water purification, ionic liquids and electrochemistry, energy storage and corrosion and we've had a number of exchange visits of students and researchers over the past couple of years.
Of course our very first connection came through our 'in country' student Laura Sanchez, an empoyer of Tecnalia enrolled in a Deakin PhD part time, focussing on recycing of Nd from rare earth magnets using ionic liquids.  Laura has been amazing during my stay here so far helping me with my shopping needs, internet connectivity and just having a good time!
Of course we've also had some terrific science conversations as she works towards writing up her work for her PhD thesis.  Making the most of the face to face conversations while I am here.
In the coming weeks we are interviewing our shortlisted candidates for our second Deakin 'in-country' student in the corrosion inhibitor area to be supervised by Anthony Somers and myself at Deakin and Dr Fabiola Brusciotti at Tecnalia.  Looking forward to chosing the new candidate and starting them off while I am in San Sebastian.  Great timing!!
Also had great conversations with Dr. Margot Liosa Tanco and Dr Alfredo Pacheco Tanaka in the membrane area – also a strong synergy, in particular for gas separation and so good potential for further 'in-country' PhD students with this Tecnalia team.
It was great to take ten days leave in late April for a whirlwind trip of southern Spain and some fantastic experiences of museums, art, churches and old mosques in Madrid, Toledo, Jaen, Cordoba and Barcelona as well as hiking in the Sierra Nevada.  Not to mention great food and Vino Tinto!
So that's been my first few months in Spain. The next couple of months will involve a bit more travel with an ACES meeting in Dublin then conferences in Padua (Italy), Bordeaux (France) and Wisla (Poland).  I'm also accompanying the Australian delegation of young scientists to the Lindau Nobel Laureate meeting in late June on behalf of the Australian Academy of Sciences.  That looks to be a really exciting meeting with 30 Nobel Laureates (mostly in Chemistry) talking about their work.  What a great opportunity!
Of course I will have more Deakin visitors arriving soon. Haijin arrives to start his Endeavour fellowship in POLYMAT soon.  Cristina will visit for a few days for meetings with POLYMAT and CIC energiGUNE and Patrick will come for an energy storage conference hosted by CIC energiGUNE in Vitoria-Gasteiz.
Un Saludos!
Who we collaborate with