Professor Maria Forsyth in San Sebastian – Part 2
Associate Director of ACES, Maria Forsyth, has been running marathons and learning Spanish while working with POLYMAT in San Sebastian. Prof Forsyth shares more of her experience so far…
Did you miss the first part of Prof Forsyth's blog? You can read it here.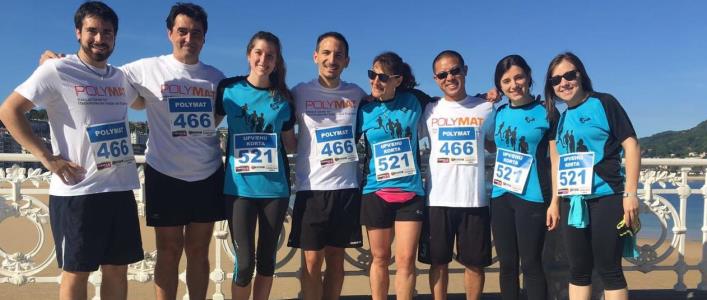 Hola Amigos!
I am meeting with the other professors at POLYMAT and  I have discovered that we have things in common in the corrosion area also!  Dr Jose Ramon Leiza works with industry (and other applied research institutes in the Basque country) to develop polymers and coatings for corrosion control.
Jose Ramon's group makes specialty polymers that can be used in concrete as superplasticizers  and that there is a concrete group in Tecnalia that works in cement and concrete.  Further discussions revealed we have other common Tecnalia connections working on corrosion inhibitors for integration into coatings for marine environments (I'll come back to this later).  Consider that in this part of the world many windmills are situated out on the ocean, in very corrosive environments and are constructed in part from painted steel!   Good corrosion resistant paint will be a must to keep maintenance and replacement costs down!
Of course, as well as scientific interactions there has been some team bonding with two 4-member teams running in the Carrera de Empresas (an 8.5km run along the beaches at San Sebastian).  Those at IFM may also recognise Asier Fernandez who spent a six month internship with us in an ACES project on Zn batteries.
There have been pinxto outings also, for example to celebrate Nerea's successful PhD defence.  I mustn't have been too difficult an examiner as she invited me along too!  I think the PhD oral defence is a great thing with family and friends of the student all attending the final seminar and examination. Well done Doctora!! (again IFM/ACES may recognise Nerea from her two visits to Burwood).
AND as well as the science I have been learning Spanish. I discovered that if I wanted to communicate outside of the tourist areas, I had to learn how to speak with the locals.  So during the Easter week I took a super-intensive beginner's course with four other foreigners.  I was by far the oldest and probably slowest student! But I've been persevering and taking one or two one on one classes each week in the evenings.  As exhausting as that is I am making progress and certainly understand much more than when I first arrived.  I even had a 15 minute conversation with my taxi driver the other day!!  And now I can exchange a few phrases with the locals at the gym, at work or in the shops.  It makes life so much more comfortable. Still – I have a long way to go before I become fluent!!
Un Saludos!
Who we collaborate with