Professor Maria Forsyth in San Sebastian – Part 1
Associate Director of ACES, Maria Forsyth, has been in San Sebastian for the last few months, working with POLYMAT at the University of the Basque Country. This is a blog about her experience so far…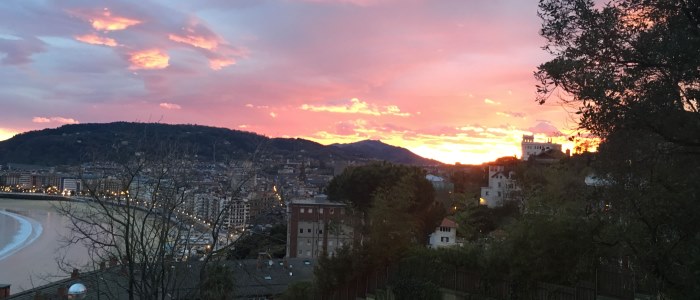 Hola Amigos!
I have arrived in San Sebastian!  I've been based at POLYMAT in the Universidad del País Vasco (ie. The University of the Basque Country) working with Professor David Mecerreyes' innovative polymers group. Some of you may remember David from his time at IFM as a Deakin Thinker in Residence – so this is kind of a reciprocal visit to further strengthen our collaboration in polymer electrolytes for battery applications.
Arriving in San Sebastian on a cold wet Saturday I was quickly won over by this wonderfully alive city.  My hosts put me up in the 'Talent House' which is basically an apartment building for researchers from outside San Sebastian who are working in the region, either at the university or one of the other numerous research institutes. For example Tecnalia and CIC institutes such as energiGUNE (both of which I am also visiting and with which we have research projects – but more on that later), nanoGUNE, biomaGUNE etc…Ms Ines Plaza, POLYMAT's incredibly helpful administrator, kindly arranged a most amazing view of the sea from my third floor apartment!
I have been meeting with many of the research fellows and students in David's group and immediately found synergies with what our team at IFM Burwood are doing in the electrolyte area.
There are at least two new project collaborations developing with Dr Luca Porcarelli and Dr Jaime Martin Perez who have exquisite control over polymer nanostructure structure and surface chemistry.
We will study polymer/plastic crystal composites and new ion gels  based on ionic liquid electrolytes, from both a fundamental understanding of ion dynamics in these materials through to their applications in devices. This is in addition to our existing collaborative projects on Na battery polymer electrolytes – the topic of Asier's PhD in collaboration with CIC energiGUNE, Deakin and POLYMAT.
Dr. Matze Hilder from our group has also just arrived for his second stint at the CIC energiGUNE and also to work with Asier.  The CIC energiGUNE are research collaborators with both ARC Discovery Projects and with ACES. They are situated in another Basque city, Vitoria-Gasteiz, which is a fairly long bus or train ride from here but worth visiting the dynamic teams there and strengthening our research ties, so during my stay here I also have an office at the CIC (thank you Begonia!).  The CIC is a cross between an ARC Centre of Excellence and a CRC in Australia.  CIC energiGUNE is all about energy storage – a key research interest for both IFM and ACES. Much of their research funding is associated with industry partnernerships or large European projects.
I have also had some exciting conversations with Dr Haritz Sardon in David's team who, amongst other things, works on radical polymers he is designing with our own Dr. Luke O'Dell for DNP NMR applications. This is new NMR instrumentation which was recently acquired  and is situated at the University of Melbourne, through our ARC LIEF partnership.
This exciting new methodology that Luke is developing will let us use the electrons in the polymer radicals to enhance the sensitivity and drastically improve the signal to noise in NMR spectra, and hence will let us interrogate difficult and small volume samples (such as at electrode interfaces).  Again the collaboration with POLYMAT and their exquisite control of polymer chemistry and architecture will be invaluable for these developments!
Un Saludos!
Who we collaborate with