BatTRI-Hub: The quest for a better battery
ACES researchers are leading the search for better battery technology that is safer, cheaper and longer lasting.
Since the start of the Centre, the ACES Synthetic Energy Systems team has been conducting world class research in a number of areas that can offer specific, tailored battery solutions to meet industry needs, from small personal device items, to powering vehicles, and generating sustainable electricity supply.
Through established local and international industry collaborations, ACES research is quickly moving towards exciting new energy technologies that can address major challenges at the heart of this new world of energy provision and storage requirements.
The advancement of these energy storage technologies towards refinement and commercialisation has been maintained by the commissioning of the Battery Technology Research and Innovation Hub, known as BatTRI-Hub, located at Deakin University.
Co-led by Professors Patrick Howlett and Maria Forsyth, the Hub capitalises on the electromaterials research expertise developed at ACES to further develop this next generation of battery technologies, in collaboration with the polymer research strengths of CSIRO.
BatTRI-Hub creates the ideal platform to prototype novel energy storage devices with design optimisation and operational flexibility to suit the modern world's growing technological needs.
The Hub enables the tailoring of research programs to meet specific industry needs and consumer demands as batteries continue to evolve from small personal use items, to powering our modes of transport and our electricity supply.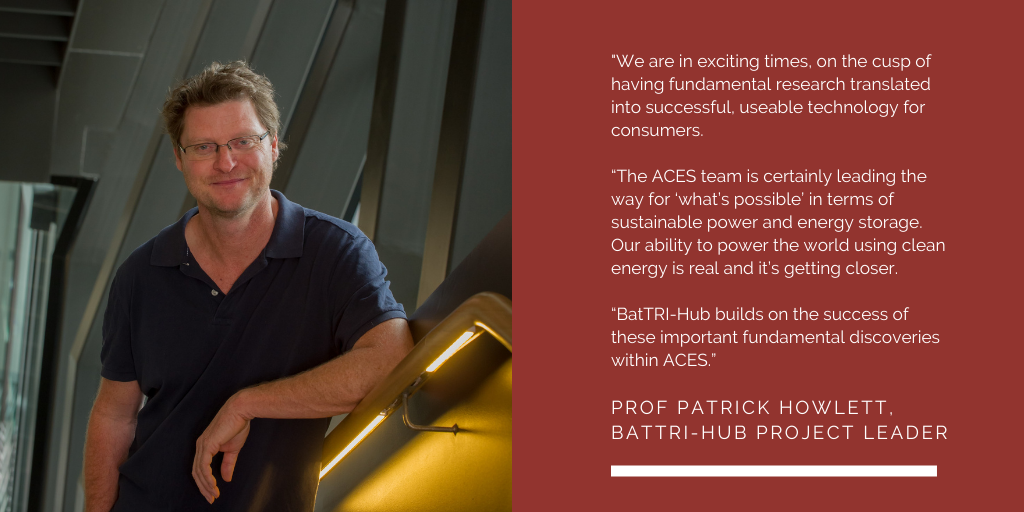 BatTRI-Hub is fast becoming a centre for all kinds of industry engagement, ranging from chemical companies through to battery manufacturers and energy providers. A number of businesses and research groups have come on board to partner with the world class researchers on offer at the BatTRI-Hub, including Toyota, AusNet Services, Boron Molecular, Calix and Sensorplex, Sicona Battery Technology, Solvionic, Targray, AnteoTech.
These local and international partnerships will allow for accelerated progression towards solutions for targeted industry challenges.
BatTRI-Hub 2.0
In July 2021, the Victorian State Government, funded by the Andrews Labor Government, announced a $9.5M plan for a new BatTRI-Hub 2.0 to be put in place at Deakin's Burwood campus. The new establishment will build on this previous work and will feature a testing lab and pilot production line to research and manufacture advanced lithium and sodium batteries.
BatTRI-Hub will provide research support to the growing Australian battery supply chain, demonstrating new materials viability in prototypes, fostering start-up technologies through design, characterisation and testing towards domestic battery manufacturing, as well as providing services and consulting to battery end-users and government. BatTRI-Hub will provide the research training environment essential to create the next generation of Australian battery researchers.
Who we collaborate with