Recap: 2021 ACES Symposium and Leon Kane-Maguire Address
Overseas travel may still be restricted but that didn't stop the 15th Annual International Electromaterials Science Symposium from going ahead.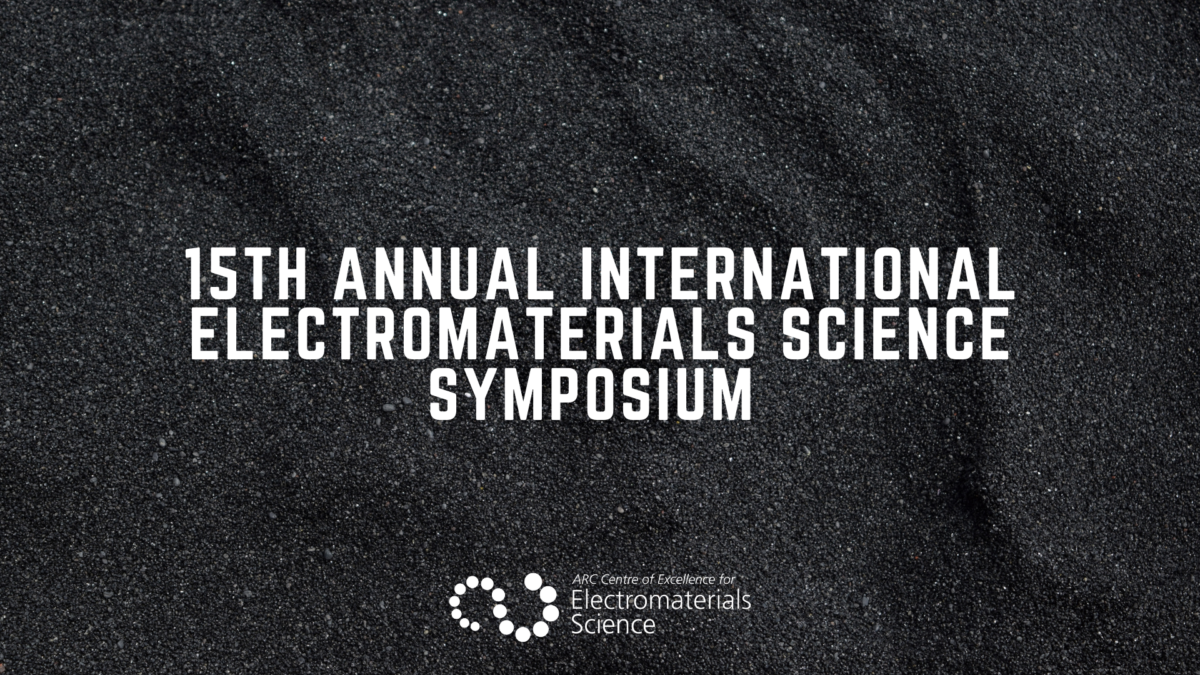 Held in a virtual format over three days last week between February 3-5, the Symposium provided the opportunity for multidisciplinary science to be highlighted and discussed for yet another year.
Hosted by the University of Wollongong (UOW), each ACES Australian research node (UOM, Deakin, Monash, ANU, La Trobe, Swinburne and UTAS) joined online as well as international collaborators from across the globe.
To kick-off the proceedings on Day 1, the Symposium began with an opening address by ACES Director Prof Gordon Wallace followed by a number of fantastic talks and follow-up questions from the audience throughout the afternoon.
"The annual symposium provides an opportunity to celebrate the recent achievements of researchers in ACES and of our colleagues around the globe," said Prof Wallace.
"It also allows us to reflect on the challenges in front of us and to reinforce our joint commitment to tackling these together."
The second day started slightly different to Day 1 with a special panel session on 'Positioning Research for Translation' with Paul Barrett (IP Group), Dr Charlie Day (Jupiter Ionics Pty Ltd), Prof Maria Skyllas-Kazacos (University of New South Wales) and Dr Pia Winberg (Venus Shell Systems), evoking a fascinating discussion before another afternoon of presentations.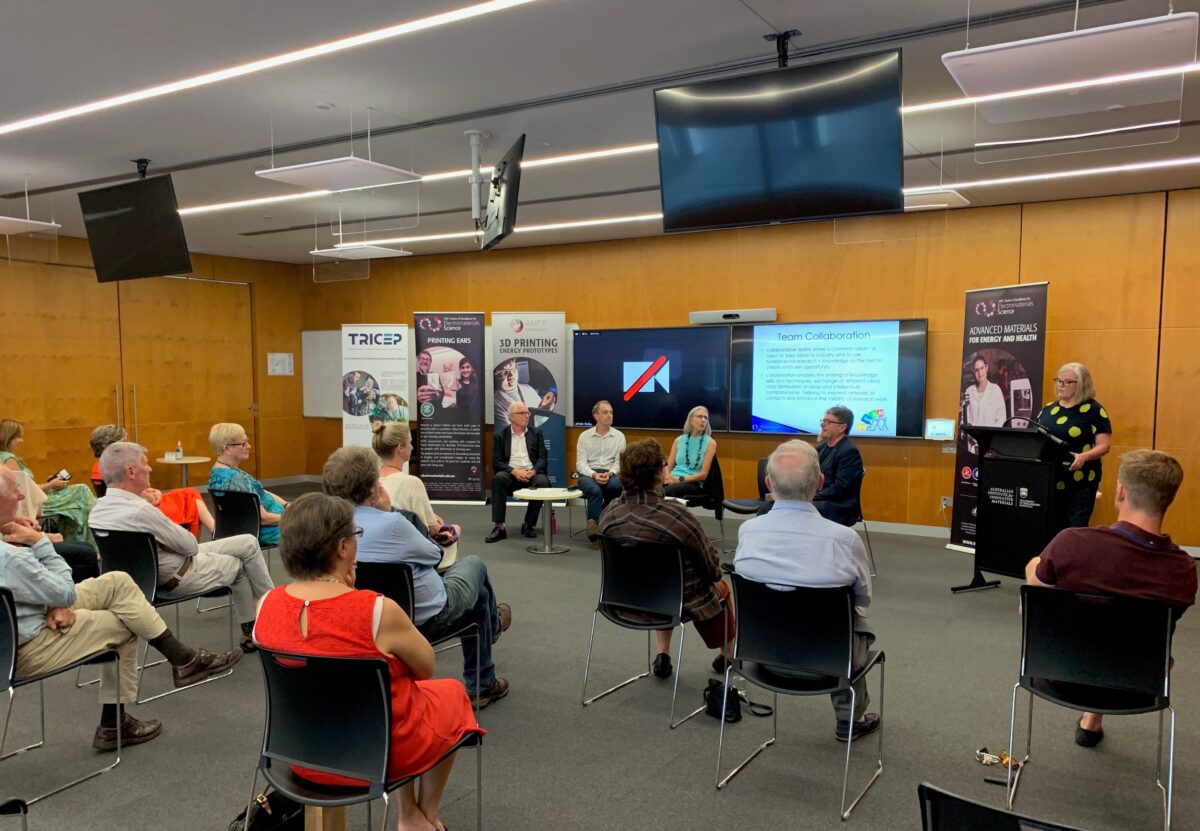 The annual Leon Kane-Maguire Address was then held in the evening of Day 2. Like the Symposium, the Address was online, but was also a hybrid event with a limited number of people in-person for the event at ACES headquarters in Wollongong at the UOW Innovation Campus.
Celebrating the life of Leon Kane-Maguire, one of Australia's great scientific minds, the Address featured a panel of special guests for a presentation on the pros and cons of collaborative research. The panel included ACES Chief Investigators Prof Geoff Spinks and Prof David Officer as well as UOW Biomechanics Research Laboratory's Prof Julie Steele and former ACES Chief Operating Officer Dr Toni Campbell.
As part of the evening, the Leon Kane-Maguire student prize, donated by the Kane-Maguire family, was awarded to Aelon Rahmani for being the highest achieving School of Chemistry and Molecular Bioscience Honours degree student.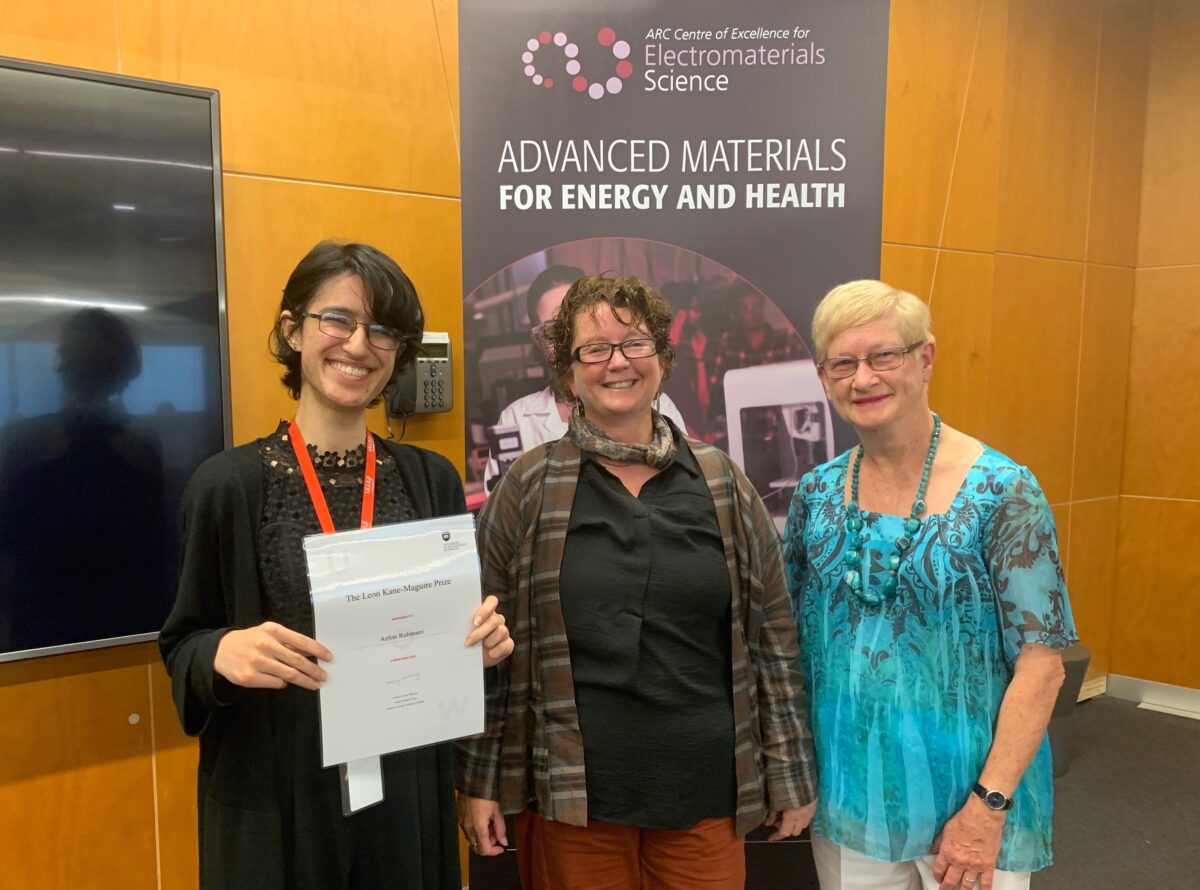 "This year's LKM Address brought us together to reflect on the importance of collaboration in research if we are to tackle big challenges faced by our communities," said Prof Wallace.
"That spirit of collaboration cannot stop at the technical level. We must engage with many different skills so that the solutions we uncover are to be delivered into those communities."
Closing the week out, the final day of the Symposium commenced with a virtual poster session, sponsored by ProDigitek, with prizes for the best of the bunch going to Matteo Solazzo from Trinity College Dublin (first place), Thomas Blesch from Monash University (second place) and Sulokshana Marks from the University of Wollongong (third place).
Day 3 also marked the ACES Showcase, an opportunity for each research themes to be highlighted, including Electromaterials, Electrofluidics and Diagnostics, Soft Robotics, Synthetic Energy Systems, Synthetic Bio Systems and Ethics Policy Public Engagement.
In addition to the poster session, the Showcase also included yet another panel session – this time on 'Careers in Research'. The session was featured Prof Debbie Silvester (Curtin University), ACES Chief Investigator Prof Susan Dodds (La Trobe University) and Prof John Madden (University of British Columbia).
Following both the panel session and the Showcase, NSW Chief Scientist Prof Hugh Durrant-Whyte was given the virtual floor to offer his closing remarks and to bring the 15th Annual International Electromaterials Science Symposium to a close after another year.
Who we collaborate with