A conversation with the 2020 Bill Wheeler Award winner Grishmi Rajbhandari
Congratulations are in order for ACES affiliate and University of Wollongong (UOW) PhD student, Grishmi Rajbhandari, who has received this year's Bill Wheeler Award, supported by the Kiama Rotary Club.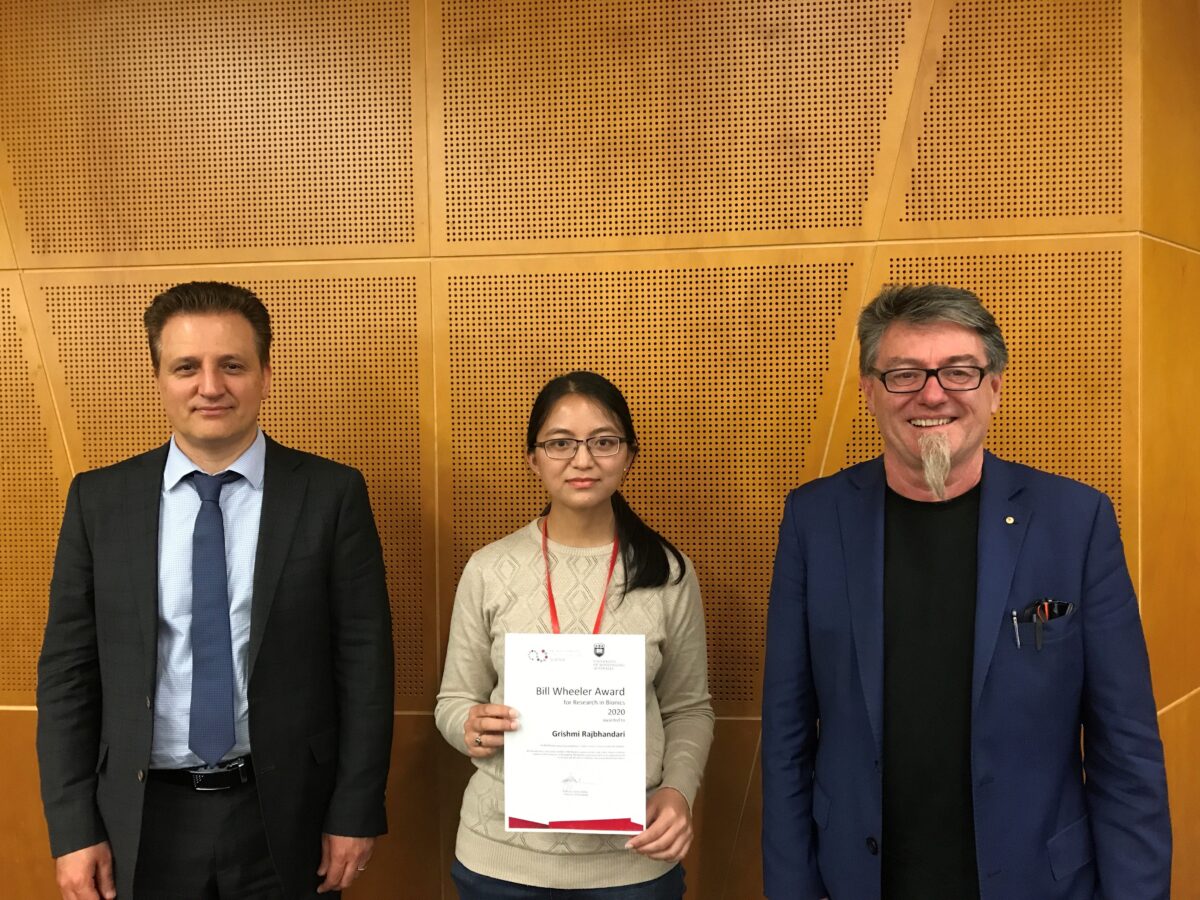 Grishmi was recognised last week at the 2020 Bill Wheeler Symposium, awarded for best communicating the social impact of her research on Printing Antennas for Cochlear Implants. With the Bill Wheeler Award also comes funding to use to further her research.
The Symposium also featured a guest presentation from Medical Oncologist from the Illawarra Cancer Care Centre, Professor Morteza Aghmesheh.
After winning the award, we caught up with Grishmi to get her reaction and to find out a bit more about her PhD, as well as see what she plans on doing with the funds granted to her.
What was your reaction when you found out you were going to be the winner of the 2020 Bill Wheeler Award?
I couldn't believe it. I read the email twice and called my mum to give her the good news. It was a good feeling and I felt really happy.
What does winning this award mean to you?
To receive the 2020 Bill Wheeler is an absolute honour. Being recognised for your research by your peers and the community is really motivating. It encourages me to do more.
This year was obviously different to most, as it was held virtually like most other events and conferences. How have you found adapting to such online workshops, particularly those where you have had to present your work?
Adapting to online events hasn't actually been that hard, really. There are some perks as you get to be more flexible with your routine and even multitask at times. But I definitely miss the atmosphere and face to face interaction that comes with in-person events.
Speaking more about research during these different times, how has Covid-19 changed the way you conduct your researcher?
Well, this year definitely has been challenging. We are learning to live in the new normal and carry our research accordingly. Things have been difficult with the restricted and limited lab hours, but I guess we have come around and learned to plan ahead as well as be more efficient. Most importantly, to remain positive.
Can you explain to us a bit about your PhD?
My research focuses on Printing Antennas for Cochlear Implants. A Cochlear Implant is a medical device that electrically stimulates the nerve cells within the cochlea to provide the sensation of sound to a person with impaired hearing.
Now, there are two parts to a cochlear implant, the external unit that is worn on the ear containing a microphone and the other implant unit containing the stimulating electrodes. These two units physically separate communication wirelessly through a set of transmitting and receiving antenna. The receiving antenna within the implant body is the main focus of my work and I am using both 2D and 3D printing methods to fabricate alternate antennas for the Cochlear implants.
Overall, the research objective is to create affordable hearing implants.
What do you plan on doing with the funding you've won?
The ultimate target of my project is the integration of my printed antenna coil constructs into the commercially available Cochlear Implant. As such, I plan to use the award funding to go to Cochlear Limited, our industry collaborator for this project, to work on-site with the engineers there, use their special program and platform to evaluate the function of the printed antenna, also learning how to integrate my fabricated antennas with the commercial implants.
Hopefully, this will be a valuable learning and translational experience.
Good luck with that, and once again, congratulation on this achievement.
Who we collaborate with