Many of our PhD students come for far and wide to further their studies – each with a unique story. ACES and Monash University's Shuo Dong is no different.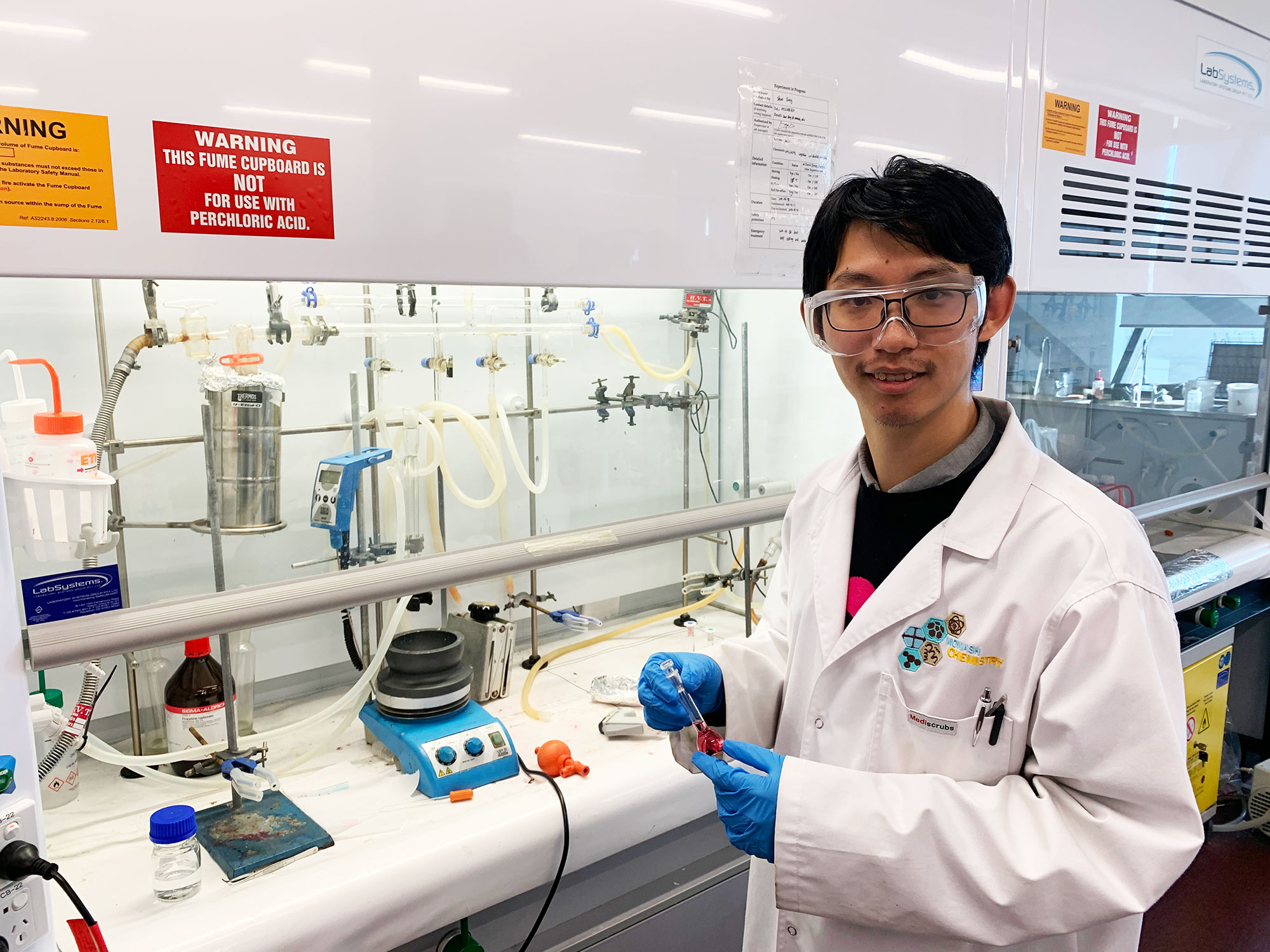 Shuo's studies began in his hometown Tianjin, in China, followed by a move to Scotland and then to Australia where he currently spends his time researching redox flow batteries with our energy team at Monash.
We caught up with Shuo for our latest PhD Interview to find out more about his project, how he came to join ACES, his future plans and more.
What is your PhD project about?
My project is on redox couples for flow batteries. What I'm trying to do is improve the solubility of the redox materials in the batteries. I'm currently in the second year of my PhD. My supervisors are ACES Chief Investigators Prof Douglas Macfarlane and Prof Jenny Pringle.
I'm based at Monash University but have also spent some time at Deakin University (where Prof Pringle is based), as I have an interest in their focus on lithium batteries. I've been there to do various experiments with their group.
For those who don't know, could you explain what a redox flow battery is?
A redox flow battery is an electrochemical cell that is an energy storage system. They are different from other batteries like lithium or lead acid batteries because as they store the electrolytes outside the electrochemical cell. Lithium batteries that we use for our smartphones, for example, store the material in the cell.
For our redox flow batteries, we have two tanks outside the battery for discharge, used to pump the electrolytes into the cells. The amount of these electrolytes can also be flexible. If we want to store more energy, we simply use more electrolytes. The main application of our redox flow battery is for renewable energy, such as solar cells and wind power. However, these energy sources are not always stable, such as if it's a rainy day, solar cells cannot work properly. So we need a system to store this energy. That's what we are aiming to achieve.
What was your background before your PhD?
I did my bachelor's degree in my hometown in China at Tianjin University. I then moved to the University of Edinburgh in Scotland for my master's by research on solar cells. After finishing my time in Edinburgh, I briefly worked back home in China with a chemical engineering company for about six months. It was a business role and involved various jobs like signing contracts with other companies. However, I decided to pursue further study because I missed actual science and research.  I then ultimately moved out here to Australia to join ACES and the group at Monash University to work on energy systems.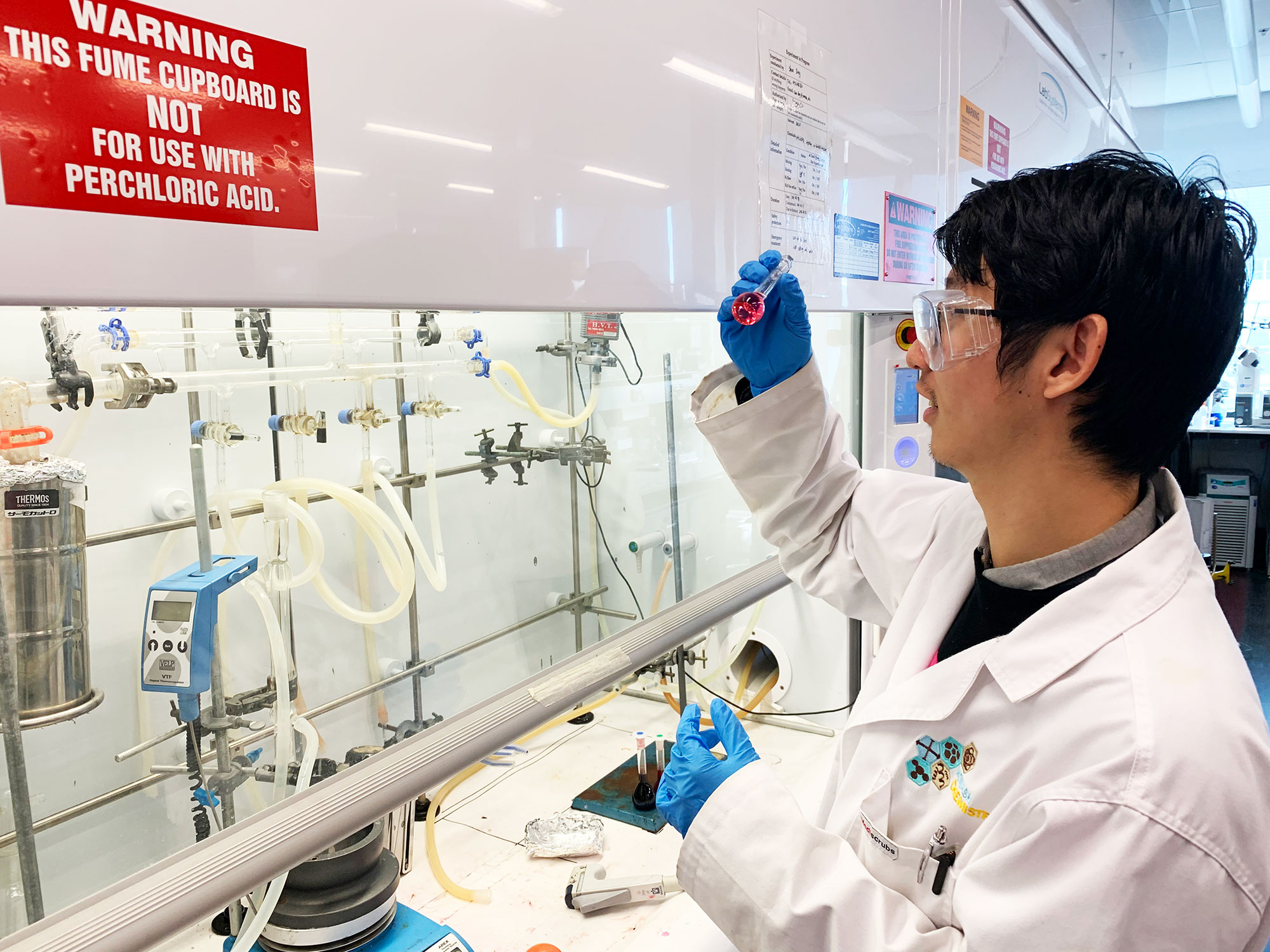 How did you find your way to Australia and ACES?
I found the PhD position by researching opportunities in the field online. I had first planned to join Monash after getting in touch with Prof Leone Spiccia. Sadly, he passed away before I came here, so I was then put in touch with Prof Macfarlane. After talking to him, he offered me a position, which I am very fortunate to take and have really enjoyed the journey so far.
You've moved around a lot during your studies. What would you say the biggest difference from country to country has been?
The biggest difference for me has been the dissimilar systems in place for both teaching and research. I had always wanted to experience different learning environments when I was in China. I've found the UK and Australia to be quite different.
In China, students don't really conduct independent research and usually follow the supervisors lead for the most part, without having to really use a lot of critical thinking. Whereas here and also in Scotland, I've found it to be more on the student to be proactive and lead their research. Through each experience, I feel I've learned how to be a real researcher.
I think you always need to think critically and it's important to follow the direction you want in your research go in.
What does a usual day here look like for you?
I'm Chinese and we're famous for our hard work, so I guess you could say I have a boring life because I spend most of the day and night here [laughs].
I only live a 15 minute walk or so away from the campus so I sometimes come back after dinner to keep working. I love being in the labs and also spend a lot of time reading in preparation for the next day.
Have you travelled around Australia at all since coming here?
I've been to Wollongong and Geelong for the ACES Full Centre Meeting and Symposium. I've also checked out the Great Ocean Road, which was beautiful – as well as Uluru. Australia is a really nice country. I'd like to see more of it.
Speaking of the Full Centre Meeting, yourself and fellow ACES and Monash PhD student Thomas Blesch were highly commended at the Meeting for your three-minute video entry. How did the video come together?
It's the first research video I've done, so it was a great experience. Thomas asked me if I wanted to help out and make a video together because we work very closely here. I mostly helped with gathering some photos and did some voiceovers, too. I learned some valuable skills from the experience and was pleased to be recognised for it at the Full Centre Meeting.
What's your plan after your PhD?
I might be different from a lot of other PhD students but I don't actually want to work in academia when I finish. I'd rather work in industry, especially with my chemical engineering background.
It would be great to stay in Australia. But if not, I might go back to China. Then again, I may even do a post-doc after I finish my PhD before pursing work. I'm always happy to learn more, so we'll see.
Last question; if it weren't for a PhD, what else could you see yourself doing for a living?
Good question… Maybe I'd be a journalist. When I was younger, I really liked different forms of media as well as writing and taking photos, so maybe that – or even work in a communications role like yourself.
You can always come spend some time with the ACES communications team if you want a break from your PhD [laughs].
Thanks for your time, Shuo.
Who we collaborate with