PhD Interview: Thomas Blesch
After finishing his masters in Germany, Thomas Blesch had a decision to make… Stay in Germany for a PhD on energy storage or study abroad. This decision was made easier when his girlfriend applied for a post-doc position at Monash University – so move to Australia it was. A few conversations had with ACES Chief Investigator Prof Doug MacFarlane and Thomas would move to Australia to undertake a PhD with ACES at Monash University, working under ACES Chief Investigators Professors Doug MacFarlane and Pat Howlett on storing energy.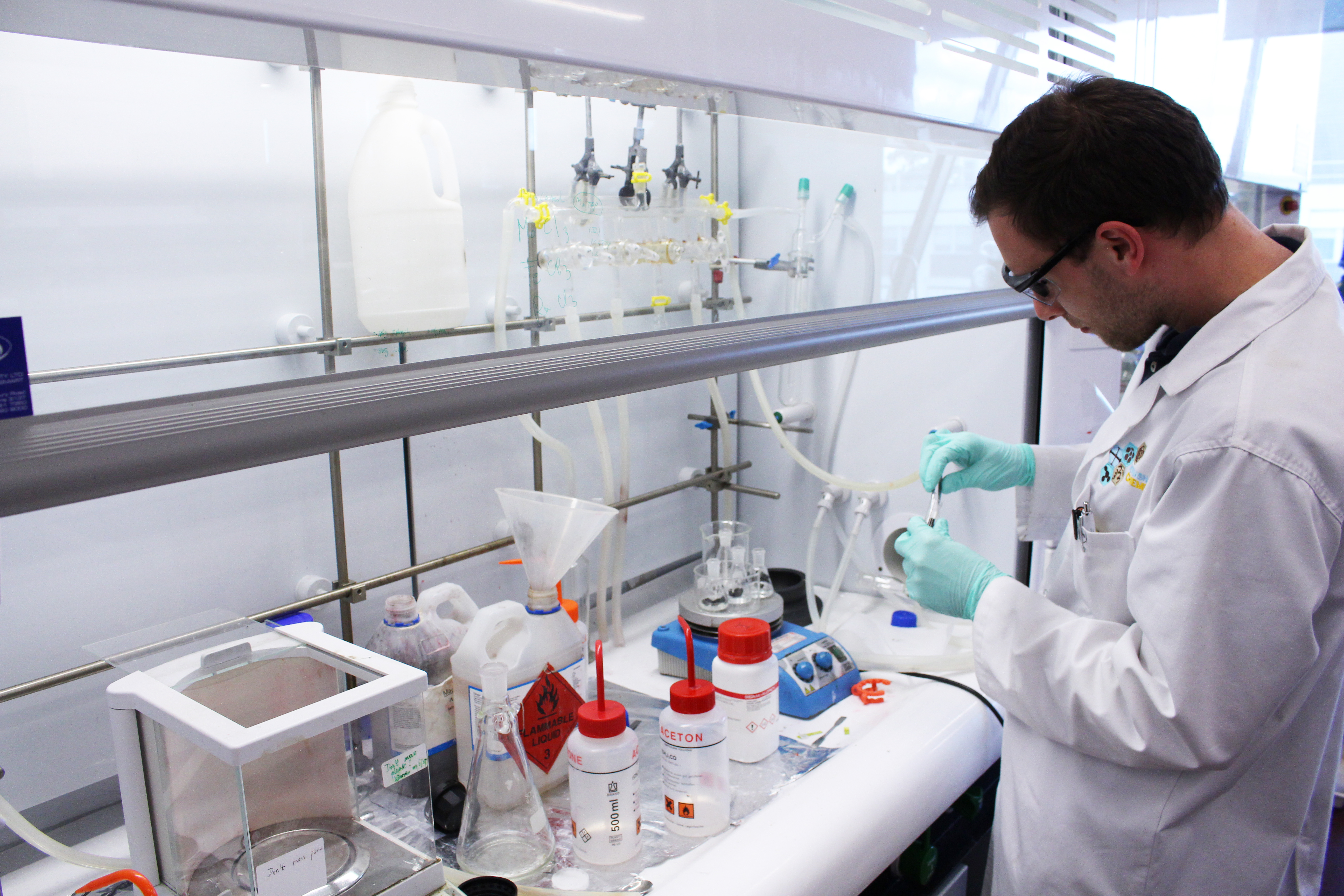 We recently caught up with him to hear about the journey, his research and the experience so far.
What is your role and research at ACES?
I'm a PhD Student and my research is on the redox flow battery. This is a battery based on liquid electrolytes that stores the charge, compared to the usual batteries you may know, such as lithium ion batteries in which the electrodes are solid. With the redox flow battery, the charge is stored in a liquid electrolyte that can be pumped around, as opposed to being stored in a solid electrode.
Can you tell me about your background before joining ACES?
My background is mostly in chemistry. In Germany, I broadly studied chemistry at the Friedrich-Schiller-Universität Jena (University of Jena). It wasn't until my later years studying a bachelor thesis at the end of my undergrad did I specialise with batteries and energy storage. Then for my masters, I had further elective subjects on energy systems, learning more about batteries, fuel cells and solar cells. I then did my master thesis at the BMW Group labs in Munich also on a battery related topic, but coming very much more from the chemistry side.
When did you start your PhD here?
I started my PhD with ACES in February, 2018. I've almost been here a year now and have two more to go.
Why did you decide to come to Australia and join ACES?
It was actually a decision I made with my girlfriend. While I was doing my master thesis, she was finishing her PhD and was looking for post-doc positions. She's also in chemistry, but more focused on polymers and life science. She applied for a post-doc position with the Monash Institute of Pharmaceutical Science. The Institute is very highly ranked and has a great reputation, so she was set on coming here. I wanted to do my PhD as well but wasn't sure where I wanted to do it – whether it be in Germany or somewhere else. I looked for opportunities at Monash in my area of interest and came across Prof Doug MacFarlane, who was doing energy storage. I wrote him an email asking if he wanted to take on another PhD student and it just went from there. Now my girlfriend and I are both here at Monash. Unfortunately, she's on another campus, but still, same university and country [laughs].
What do you hope ultimately comes out of your research?
The end goal and surrounding topic for batteries is to make them work with renewable energy. This is very much in the beginning stages. My master thesis was on lithium ion batteries for electric cars, but most of the research was already done. However, with my current studies I'm having to do most of the research for myself. I'm hoping that we can get this lab scale battery we're working on to fully function and then to see how we can optimise it for its full potential.
What does a usual day look like for you here?
It depends. I'm currently spending a lot of time taking measurements concerning solubility of our active materials because that determines the energy density of the whole system. In parallel, I'm working a lot with different electrode materials and then of course analysing all of this work. I often have regular meetings with Prof MacFarlane and Prof Patrick Howlett from Deakin (University), who is also with ACES and is another one of my supervisors. I make sure I have regular coffee breaks, too [laughs] – and talk to the other PhD students to see what they're up to and to compare research.
What is your favourite aspect of your ACES experienced so far?
The experience as a whole. Getting this position with ACES, coming to Australia and starting a new beginning. It was and is a still huge adventure. Having to talk English all day has been fun as well, and even December being summer and not winter… It's amazing [laughs].
Thanks for your time.
Who we collaborate with