Research and advocacy help advance the circular economy and ethical renewable industries
ACES ethics researchers focused on understanding the complex social and environmental issues associated with emerging energy technologies. They have developed methods to help advance energy justice as the transition to renewable energies globally intensifies.
An important contribution in this space has been the interrogation of an adaptable energy justice framework, to facilitate the analysis of renewable energy projects and trade, and the impact of renewable technologies at every step of the process – from sourcing raw materials to international trade. The framework was examined using renewable energy projects such as solar or hydrogen projects in a variety of countries, used as case studies.
ACES Chief Investigator Professor Linda Hancock from Deakin University and others have also developed a renewable energy systems framework to support disaster resilience and inform disaster policymaking. This project explores vulnerability to disaster, particularly in developing countries such as India, and the ways that renewable energy systems can foster resilience. The team's work in India, in particular, has led to discussions with a number of officials in disaster management, including those in the international aid and disaster resilience sector. Research in this area has been extended to the Australian context where natural disasters, such as bushfires and floods, threaten vulnerable infrastructure.
Throughout the Centre's lifespan, ethics and energy researchers worked closely with ACES scientists across each of its themes and at various stages of the research process. This included engagement at the very beginning of the process, with ethics researchers guiding labs toward ethical procurement practices to ensure supplies were sourced from companies that disclose their chain of supply and have no conflicts of interest. This focus on the impact of research or energy production on communities at any step of the supply chain is indicative of the team's attention to detail and dedication to research and corporate social responsibility. This goal is evident in the team's work on the Circular Economy also, Professor Hancock and Associate Research Fellow Dr Natalie Ralph have contributed to a new online resource – the Circular Economy Initiative – published by Deakin University.
The team have also engaged with academic researchers, policy experts, and communities internationally to advance energy security and justice. In recent years, Professor Hancock has co-chaired the 9th International Workshop on Advances in Cleaner Production – Towards Sustainable Energy-Water-Food Nexus: The Contribution of Cleaner Production. Dr Ralph has presented for the 'Energy Research and the Circular Economy' workshop, organised by the ARC Training Centre for Future Energy Storage Technologies. Dr Ralph has also contributed to the Principles for Responsible Management Education (PRME) Business for Peace working group, which is a United Nations Global Impact initiative.
In 2021, Professor Hancock was recognised for her work in the field of sustainability as the recipient of the Advances in Cleaner Production (ACPN) Award. The ACPN Award Ceremony was held during the 10th International Workshop on Advances in Cleaner Production (IWACP) at which Professor Hancock also delivered a keynote address.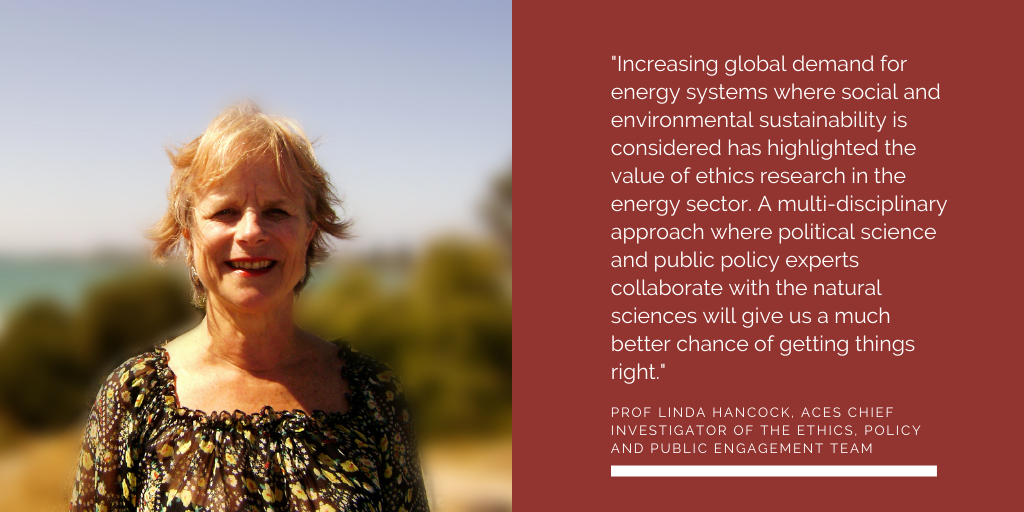 Who we collaborate with