Electrolyser technology developed by ACES researchers that could bring the cost of green hydrogen down to $2 per kilogram is being commercialised via a start-up with $5 million in initial investment funding.
Hysata, officially launched in June 2021, was formed as a spin-off company with investment from venture capital firm IP Group and the Australian Government via the Clean Energy Finance Corporation (CEFC).
The technology was developed by a team based at the Australian Institute for Innovative Materials (AIIM) at the University of Wollongong (UOW), a purpose-built facility to help transform multi-functional materials research into commercial reality. The project is led by electrochemist Professor Gerry Swiegers who has extensive experience in the commercialisation of research and bridging the gap between academia and industry.
The cohort behind the technology comprises researchers with world-class technical skills and communication skills acquired in a collaborative multidisciplinary research environment with a culture and commitment to translation fostered by ACES.
Hydrogen – a clean, storable and versatile fuel source – is considered key to our shift away from fossil fuels and the global transition to net zero emissions. Clean hydrogen, produced with electrolysers powered by renewable energy, will play a critical role if Australia is to achieve its goals: The Australian Government has earmarked hydrogen as a priority low emissions technology for Australia and has set a goal as part of its Technology Investment Roadmap to bring hydrogen down to $2 per kilogram or less (H2 under 2). Via a $1.2 billion investment and policy initiatives, the government is also aiming to position Australia as a major global player in the sector by 2030.
The productivity of Hysata's "capillary-fed electrolysis cell" produces green hydrogen from water at 98 per cent cell energy efficiency (40.4 kWh/kg hydrogen produced). This technology is superior to other existing electrolysis cells, and supersedes the International Renewable Energy Agency's (IRENA) target for the year 2050, enabling an affordable hydrogen production cost that can match the production costs of fossil fuels.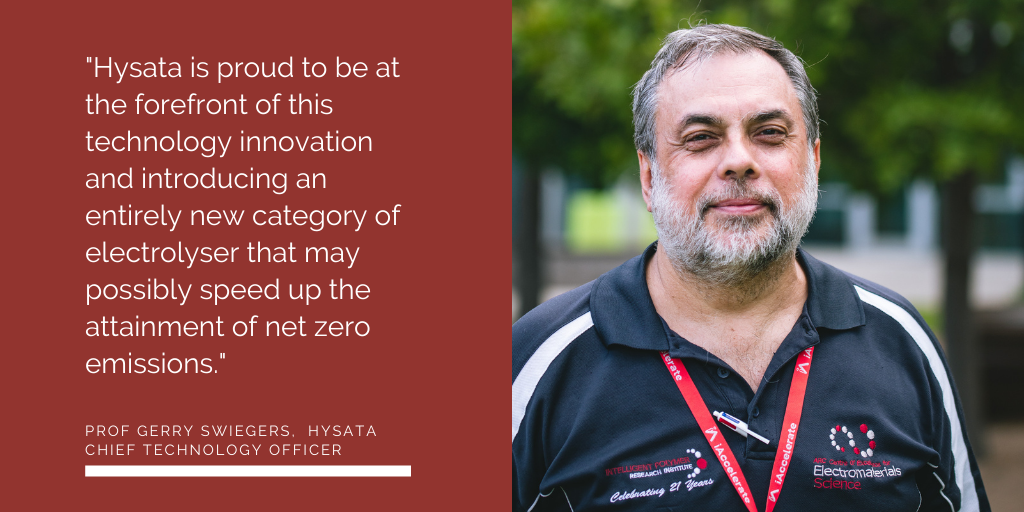 The technology's viability is what attracted funding from IP Group, which specialises in the commercialisation of university research, and the Clean Energy Innovation Fund, which targets technologies and businesses that have passed beyond the research stage. Hysata, to which the CEFC committed $750,000, represents the Corporation's first hydrogen-related investment.
Research related to the technology behind Hysata was recently published in Nature Communications. The paper, titled 'A high-performance capillary-fed electrolysis cell promises more cost-competitive renewable hydrogen', is available online.
Who we collaborate with