3D printing developments and collaboration: an interview with QUT's Naomi Paxton
ACES researchers have joined forces with Queensland University of Technology (QUT) and the ARC Industrial Transformation Training Centre in Additive Biomanufacturing for a new paper on 3D printing.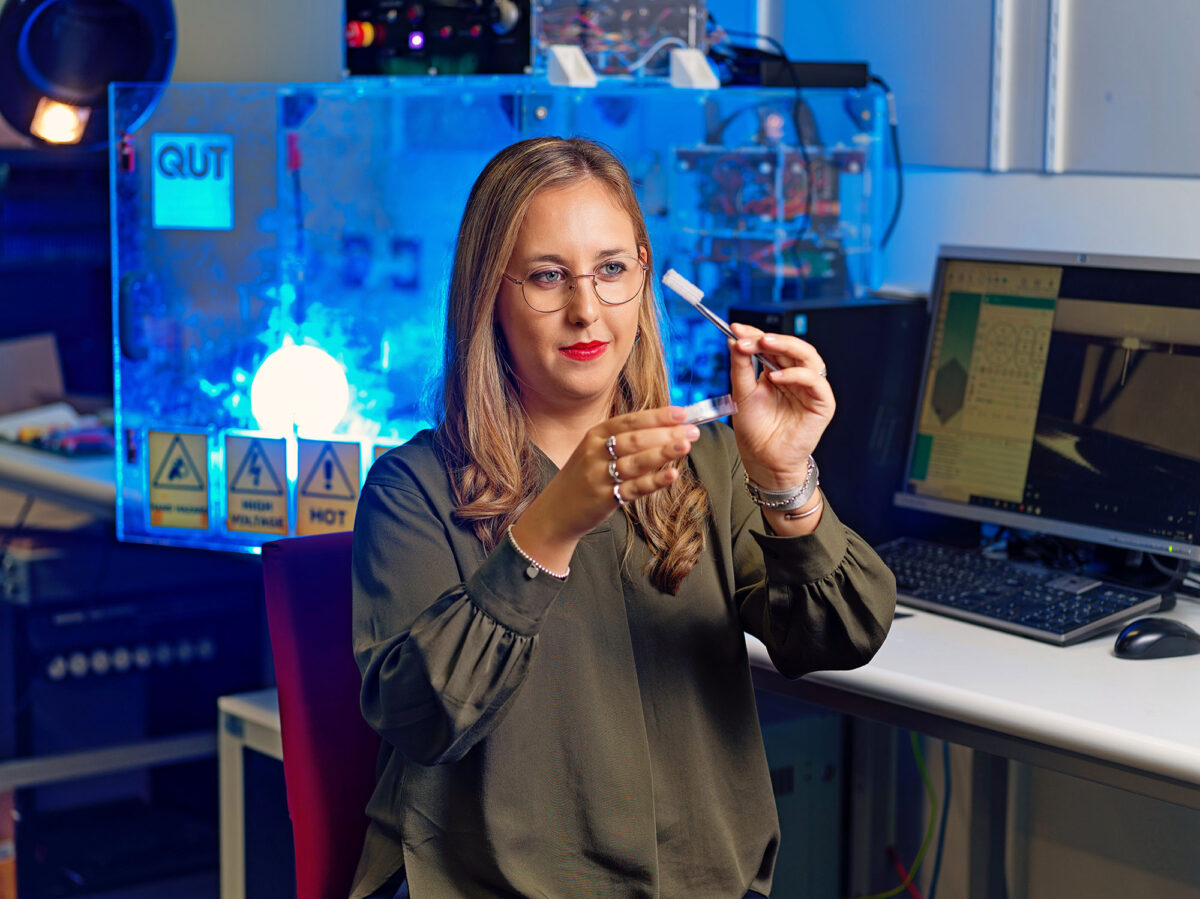 QUT's Naomi Paxton celebrated the completion of her PhD with the collaborative publication, which focuses on the development of novel 3D printed high-density polyethylene (HDPE) surgical implants, published in Applied Materials Today.
Naomi, under the supervision of Prof Mia Woodruff and in partnership with Anatomics, also saw input from a number of ACES and University of Wollongong (UOW) researchers and affiliates. This included ACES Director Prof Gordon Wallace, UOW Senior Researcher Dr Zhilian Yue and A/Prof Stephen Bernie and UOW PhD candidate Jeremy Di Noro.
After the successful publication of the research, we caught up with Naomi to find out more about the paper and how it all came together.
For those who don't know, could you explain your area of research in biofabrication?
Biofabrication is a multidisciplinary research field combining 3D printing with tissue engineering, aiming to bring personalisation to the forefront of healthcare treatments.
The goal of our research is to use 3D scanning, modelling and printing to create patient-specific tissue scaffolds which regenerate damaged or diseased tissues and 3D models and surgical tools for personalised surgical planning.
I believe you also recently finished your PhD. How was the experience?
I recently completed my PhD in the ARC Industrial Transformation Training Centre in Additive Biomanufacturing, connecting leading research teams with industry partners across Australia.
I had a wonderful experience working in partnership with Melbourne-based medical device company Anatomics and researchers from the University of Wollongong to develop the next generation of personalised surgical implants for craniomaxillofacial applications.
Can you tell us a bit more about your particular research and collaboration that was recently accepted to Applied Materials Today?
Our collaborative paper reports on the development of novel 3D printed high-density polyethylene (HDPE) surgical implants, called StarPore®.
HDPE is commonly used in porous implants for facial reconstruction to allow soft tissue growth throughout the implant and stabilise it after surgical implantation to restore the underlying bone structure of the face following disease or injury. The novel 3D printed implants were printed by fellow ARC ITTC ABM PhD student, Jeremy Di Noro, and compares to existing products on the market.
We found that controlling the porosity of the implants as well as using plasma surface treatment increased the rate of tissue ingrowth and formation of blood vessels within the porous structures.
These promising results demonstrate the efficacy of using 3D printing as a manufacturing method for producing customised, patient-specific implants that perform to a better standard than current products on the market.
How did it come about and who else was involved?
This PhD project was funded through the ARC Industrial Transformation Training Centre in Additive Biomanufacturing. My PhD project was undertaken in the Biofabrication & Tissue Morphology group, led by Prof Mia Woodruff. We worked closely with Dr Philip Lewis and Mr Robert Thompson at Anatomics, as well as Jeremy Dinoro and Prof Gordon Wallace's team at the University of Wollongong to analyse the novel 3D printed implants compared to Anatomics' standard StarPore® implants and other clinically-used products.
What is the future implication of this research?
We anticipate these findings will support the rapid translation of optimised 3D printed implants for personalised craniomaxillofacial treatments. This preliminary pre-clinical study shows promising results for implementing this novel fabrication method in routine implant manufacturing.
Great work and congratulations on the paper and finishing your PhD.
Access the paper here.
Who we collaborate with