ACES strengthens links with India
A lack of international travel is not stopping ACES researchers showcasing their latest advances in biofabrication across the world.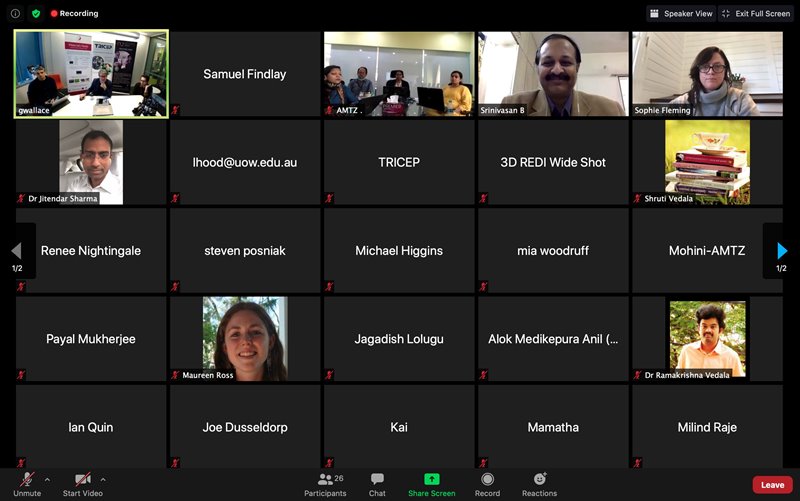 In pre-COVID times, this week would have seen advanced medical technology collaborators from India join ACES researchers at the University of Wollongong to further 3D printing and bioprinting applications between India and Australia.
Instead, the team organised a week of online activities, including demonstrations and workshops, to discuss the latest developments in project work between the two countries.
The online events included demonstrations of ACES' latest advances in customised 3D bioprinters, including 3D Genii, for printing prosthetic ears.
The 3D Genii is a 3D printer that can print implantable, flexible, customised prosthetic ears that match the colour and anatomy of the patient. The patient's ear is scanned using smart phone software, and the file is uploaded for printing. The customised printer is capable of high precision 3D printing of silicon rubber into complex shapes, such as those found in an ear. 3D Genii has been built specifically to deliver the substantial forces required in printing these materials.
The 3D printed ears research is part of an Australia-India Council (AIC) grant awarded in 2019. The project focuses on building bilateral partnerships to effectively translate 3D printing technologies, to provide prosthetics for patients with microtia (a congenital deformity of the ear). The AIC awards grants to projects that will build new innovative linkages and provide sustainable collaborations between Australia and India.
ACES Director Professor Gordon Wallace said the week-long program of events were incredibly successful in showcasing the latest advances the team has made in 3D printing technology.
"We've seen some impressive advances in the partnership between India and Australia in terms of identifying areas of clinical need, developing the best strategies to meet that need, and bringing together the knowledge and expertise to deliver the most effective solution in the least amount of time," Gordon said.
"The opportunity to collaborate with medtech leaders in India provides both nations with incredible advantages. In Australia, we can better integrate multidisciplinary skills and services to achieve well-rounded innovations. Meanwhile India has the opportunity to build its local medtech infrastructure and have faster access to medical technology to benefit their growing population.
"I'm excited to continue our work with our Indian collaborators and make real in-roads in accelerating new technologies, creating new industries, developing end-user engagement and building local medtech infrastructure for both Australia and India."
RPA Ear, Nose and Throat Surgeon A/Prof Payal Mukherjee, who is part of the research collaboration, said there are some impressive advances being made in 3D printing and bioprinting improve Australian and Indian research, infrastructure and health outcomes.
"It has been an incredibly exciting educational journey on both ends. Together we evolve into better and faster integration of research into our health care systems," Payal said.
The online events follow the signing of a strategic collaboration between the University of Wollongong and AMTZ (Andhra Pradesh Medtech Zone), India's first integrated medical devices manufacturing zone. University of Wollongong Vice Chancellor Professor Paul Wellings and UOW Ambassador in India Adam Gilchrist visited AMTZ as part of the signing ceremony in September 2019.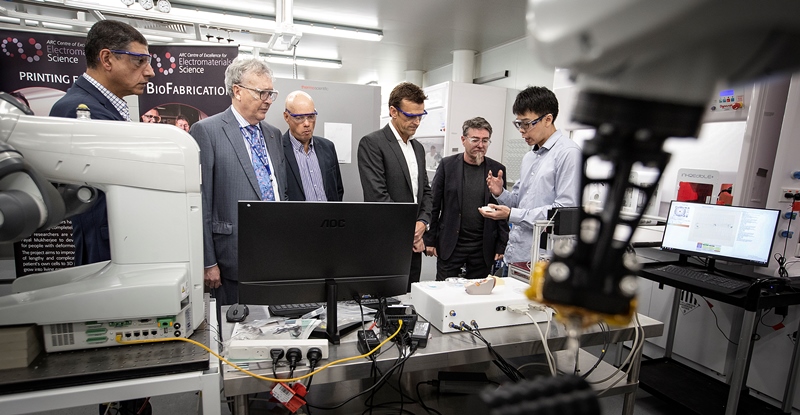 Several research and training initiatives are being established under the Memoradum of Understanding (MOU), including the 3D printed ears project, and innovative programs to support widespread deployment of the technology in India and Australia.
Who we collaborate with