3D printed face shields delivered to Wollongong Hospital
Wollongong Hospital has received its first provision of 3D printed face shields to help during the COVID-19 crisis, thanks to the team at TRICEP (Translational Research Initiative for Cellular Engineering and Printing).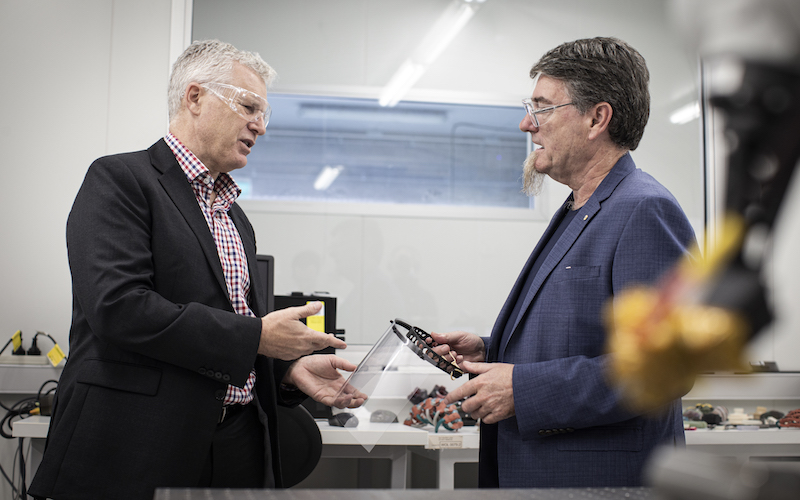 TRICEP, in conjunction with the ARC Centre of Excellence for Electromaterials Science (ACES), the Australian National Fabrication Facility (ANFF) Materials Node and UOW Makerspace, has been working with the Illawarra Shoalhaven Local Health District (ISLHD) to investigate how 3D printing capabilities could create devices and structures to protect the region's healthcare workers in the COVID-19 crisis.
Following the refinement of designs, the TRICEP team has produced 40 3D printed face shields for use at Wollongong Hospital, which will be distributed throughout the Emergency and ICU Wards.
In parallel, the group has been scaling up production with local industry, including Me3D at the Innovation Campus and CammPro in Albion Park Rail, which will see close to 1,000 face shields produced by next week.
ACES/ANFF/TRICEP Director Professor Gordon Wallace said the face shields initiative has demonstrated the power of innovation in times of crisis.
"We've always known 3D printing and bioprinting has the ability to change the way we think about making things and solving local and global problem, and this initiative highlights how 3D printing can improve supply chain issues during crises like the COVID-19 pandemic," Gordon said.
"I'm thrilled to see doctors, academics, engineers and researchers collaborating to solve community challenges quickly, and I'm grateful for our local industry partners like Me3D and CammPro who are able to support this initiative, and now have 3D printing farms running day and night to meet supply demands."
TRICEP (A UOW/ANFF Materials Node/MTPConnect initiative) houses world-leading research infrastructure to develop innovative technologies in 3D printing and fabrication, and 3D bioprinting. The initiative draws on expertise and facilities available within ACES and the ANFF Materials Node, both based at UOW's Innovation Campus.
Who we collaborate with