Dr Qi Gu: Where Are They Now?
ACES and University of Wollongong (UOW) graduate Dr Qi Gu recently returned to our headquarters to give a talk on his latest research and to tour the facilities at the Translational Research Initiative for Cell Engineering and Printing (TRICEP).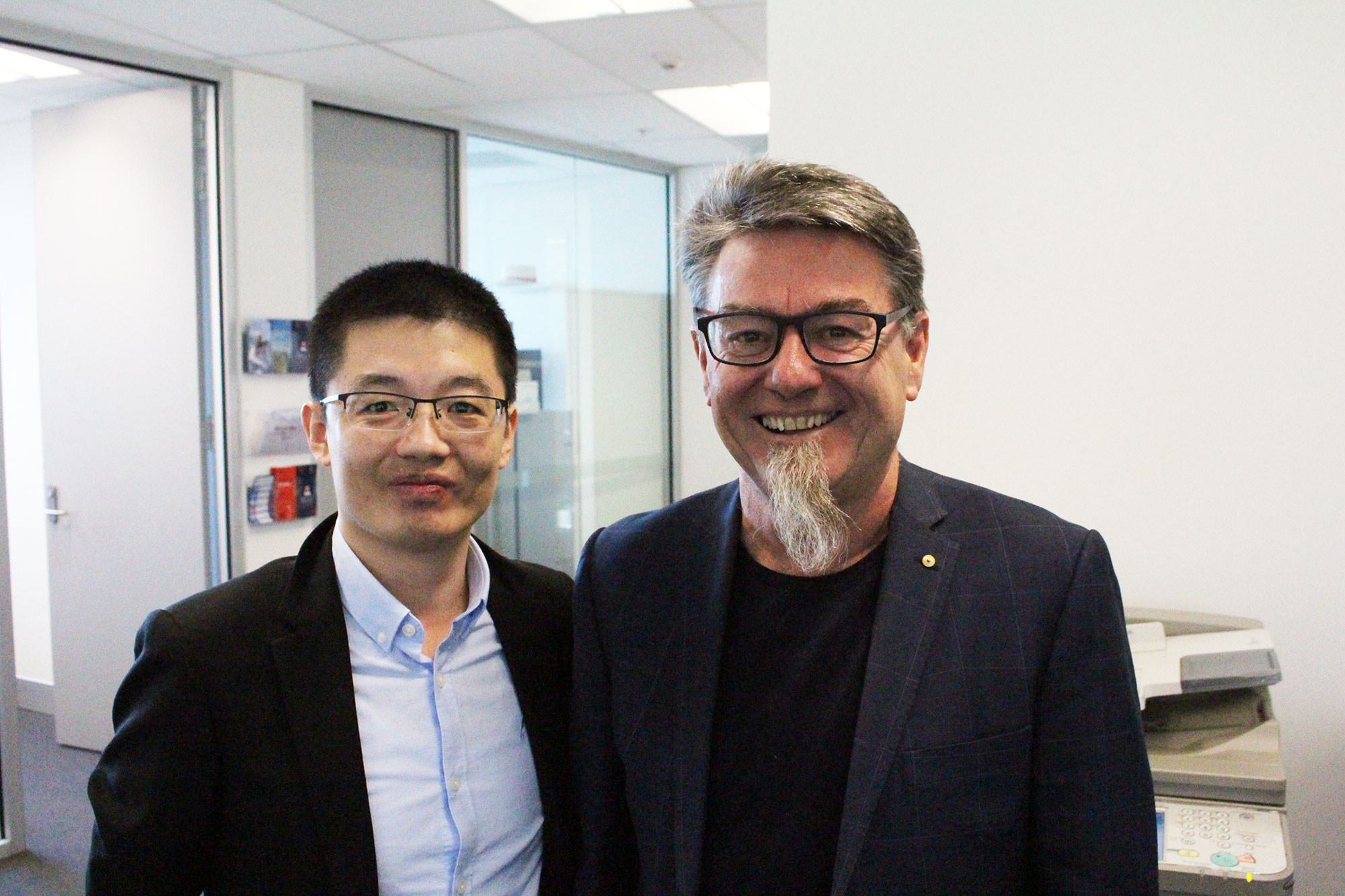 Dr Gu's return followed a trip to the Tissue Engineering & Regenerative Medicine International Society (TERMIS) conference in Brisbane, where he co-chaired a session with ACES Director and his former PhD supervisor, Prof Gordon Wallace.
We caught up with Dr Gu for a chat when he was back in town as part of our Where Are They Now? interview series, which involves conversations with former ACES students and researchers.
Welcome back, Qi. What have you been up to since graduating from ACES and UOW?
First of all, thanks for having me. It's great to be back. I've been in Beijing, researching stem cells at the Northeast Agricultural University and Chinese Academy of Sciences. I work with a group on bioinspired engineering. We focus on the development of functional biomaterials and advanced technologies. This involves using bioprinting to regulate stem cell fate and to fabricate 3D organs and even live organisms in vitro and applying them to understanding the mechanism of life and establishing novel therapeutic methods.
What brought you back for this trip to Australia and Wollongong?
The reason for my visit to Australia was to attend the Tissue Engineering & Regenerative Medicine International Society (TERMIS) conference in Brisbane. I was invited to co-chair a session on 3D printing of stem cells alongside Prof Gordon Wallace, my former supervisor here.
When I knew I would be back in Australia for TERMIS, I organised to come back and visit ACES, which gave me the opportunity to give a talk on my research for bioinspired engineering and bioprinting. The visit also allowed me to check out the new and exciting TRICEP facility – and of course catch up with my friends here.
You did your PhD right here in Wollongong with ACES. How was that experience?
I actually have two PhDs. The first PhD I did was in China on stem cell research. After finishing it I wanted to expand my studies, so I came here to Wollongong to do another PhD in Chemistry with Prof Wallace as my supervisor. It gave me the chance to learn about 3D bioprinting and delve into material sciences.
The experience was great. I really liked Wollongong. It was a perfect place to study and live. The last time I was in Wollongong was for my graduation ceremony last year. I have fond memories of my time here. I'm already planning on coming back again next year for the Biofabrication 2020 conference.
That's great to hear you'll be coming to Biofab by the Beach. What are you most looking forward to at the conference?
It's going to be a fascinating conference! It's very famous in China, in fact. There will no doubt be many experts in bioprinting and bioengineering attending and so much knowledge will be shared. I look forward to learning even more at the conference – and to again return back to Wollongong for it.
Thanks for your time, Qi. See you next year at Biofab 2020.
Who we collaborate with