PhD Interview: Sidra Waheed
From the heat of Lahore, Pakistan to the chilly climes of Tasmania, Sidra Waheed has spent the past four years on the Apple Isle at our UTAS node completing her PhD. We caught up with Sidra as she put the finishing touches on her PhD for submission.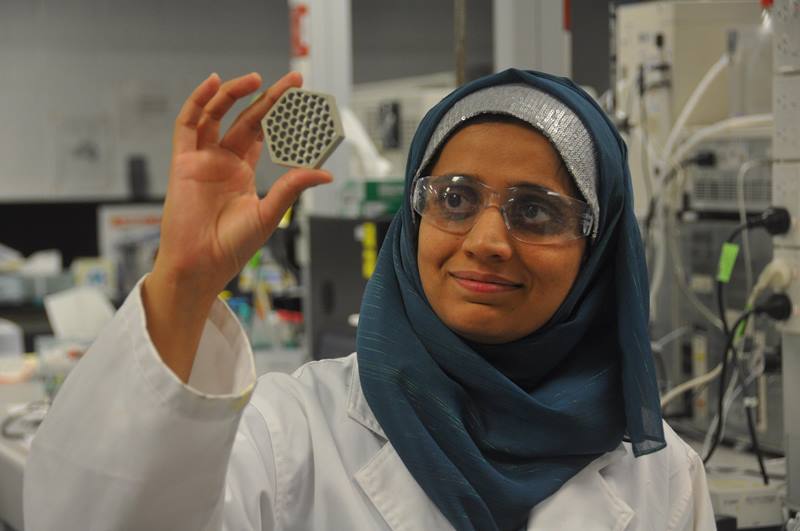 Can you tell us a little bit about your background before you joined the ACES team?
I completed my Bachelor of Science (Honours), majoring in Chemistry, at Government College in Lahore, Pakistan. I then worked as a researcher at the University of Punjab, Pakistan where I was examining the development of desalination membranes for reverse osmosis.
After spending the past four years at the University of Tasmania, I'm excited to say I have finalised and submitted my PhD thesis.
What made you decide to get involved with the research at ACES?
There is a relative lack of printable materials with tailored functional properties, which really limits the applicability of three-dimensional printing. My research is looking to develop composite functional 3D printable materials featuring improved thermal conductivity, electromechanical/chemical sensitivity, and mechanical strength. By enhancing these physico-chemical properties of composite materials we can increase the applicability of 3D printing technology.
When I started my PhD in 2015, 3D printing was really taking off as an enabling technology in materials science. I was curious to learn about 3D printing, and this spurred my passion to contribute towards the development and advancement of 3D printing technology. Working across disciplines with ACES and the Australian Centre for Research on Separation Science (ACROSS) has given me the opportunity to collaborate and further my research with a diverse group of experts.
I've heard you've achieved some pretty impressive milestones during your time in ACES. Can you tell us a little more about these?
I was thrilled to receive the European Materials Research Society (E-MRS) Young Scientist Award in 2018 at the E-MRS Spring meeting in Strasbourg, France in July, where I presented a paper entitled 'Breaking barriers within 3D printing technology: Development of low cost 3D printable diamond composite'.
My Critical Review paper titled '3D printed microfluidic devices: enablers and barriers', published by the Royal Society of Chemistry in 2016 has also been cited 205 times to date – I'm told this is ACES' highest citing article published in the past three years, which is pretty exciting.
I've had the amazing opportunity to witness the exponential growth of 3D printing technology over the past few years, and I'm proud to have put all my research efforts towards being part of this evolution.
What are the potential future real life benefits that could be developed from your research?
There is a general consensus among users that new print-compatible materials, including composite and functional materials, are required to expand the applicability of 3D printing. The fabrication of composites for 3D printing is quite challenging, as it requires tight control over the filler dispersion, distribution, orientation and connection.
My project is focused on overcoming these limitations by developing novel functional materials and making these materials 'processable' and compatible with 3D printing techniques.
The synthetic micro-diamond microfluidic chips I have developed using a 3D printed template to enhance the thermal conductivity of conventional polymers and ensure efficient heat dissipation offer real potential for a practical solution for the cooling of electrofluidic embedded electronics and mechanical-electronic micro-systems.
I have also developed synthetic diamond-containing filament for direct printing through a Fused Deposition Modelling (FDM) printer. As electronics have become smaller and more powerful, thermal management has become one of the key limiting factors in device performance. There is an increasing demand for thermally conductive but electrically insulating materials to assist in the cooling of miniaturised microelectronic devices with portable/wearable medical devices. This novel, low-cost micro-diamond containing composite provides a potential practical solution and its compatibility with FDM printing for production of complex geometries at low-cost could provide significant advantages in miniaturised and compact thermal management applications.
Who we collaborate with