PhD Interview: Luciana Yumiko Daikuara
Luciana's journey began in Brazil before venturing to Canada for a year and then finally landing in Australia at UOW in 2017 to undertake her research into biofabrication. That's not to mention a trip to Germany courtesy of being the recipient of last year's Bill Wheeler Award.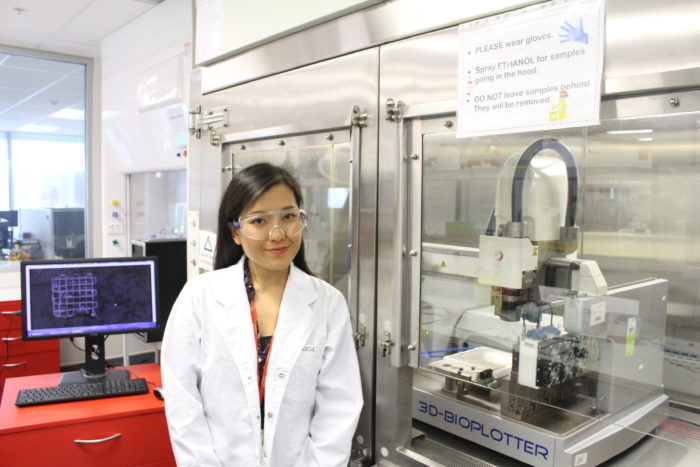 We recently caught up with Luciana to hear more about what she's working on, how she got here, winning the 2018 Bill Wheeler Award, what her future plans are and more.
Your PhD project is in biofabrication. Can you tell us a bit more about it and what you have exactly been researching?
My PhD is focused on developing customisable three-dimensional (3D) biosynthetic skin grafts for use on patients with open wounds. These synthetic grafts are made using bioprinting as the manufacturing platform. My supervisors for the project are Prof Gordon Wallace, Dr Zhilian Yue from the Intelligent Polymer Research Institute (IPRI) and A/Prof Danielle Skropeta from the Illawarra Health and Medical Research Institute (IHMRI).
The research hypothesis is that by combining functional and structural biomaterials, living cells and biological factors to support those living cells, we would be able to stimulate fast wound closure, reduce scar formation and improve the overall properties of the new skin. With that as the objective, we aim to address major drawbacks of skin substitutes currently available for clinical use. So far this project is progressing really well.
I believe you previously studied at the University of Guelph and also the Federal University of Santa Catarina? What did you exactly do at both, and how did the opportunity to do your PhD at UOW come about?
Yes, that's right. I have a bachelor degree in Pharmacy and Biochemistry from the Federal University of Santa Catarina, Brazil (where I am from). During my undergraduate studies, I was awarded a scholarship to do an exchange in Canada for a year, so I went to study Biological and Pharmacological Chemistry at the University of Guelph. I decided to apply for a PhD position in Biofabrication at UOW after watching a video from the online course – a MOOC 'Bioprinting: 3D Printing of Body Parts' (enrol for this course here) offered by UOW. Prof Gordon talked about bioprinting and 'the world of exciting possibilities' this technology will open over the coming years. After doing some research about the field, I contacted Dr Zhilian, now my co-supervisor, who kindly helped me through the PhD application process and here I am.
You were awarded the 2018 Bill Wheeler Award for your research last year. Can you tell us what that meant to you, and also how you used the funding from the award?
Winning the Bill Wheeler Award in 2018 was a great honour and an encouraging surprise that motivated me to keep working hard. I used the award to go to the International Society for Biofabrication Conference (ISBF) in Würzburg, Germany, where I was able to expand my network within the biofabrication multidisciplinary community, share my findings and learn from influential scientists in the field.
What do you like most about living and studying in Wollongong?
The relaxed costal lifestyle and multicultural community. I love the small city vibe, the cosiness, the beautiful beaches and the many great bushwalking trails in the 'Gong and its surroundings. I also love that I can meet locals and people from many different countries here. I'm really happy that I chose to come to here.
What do you hope ultimately comes out of your research?
I started my PhD because I wanted to make a difference and help people in need, so I hope this research can be translated into clinical application and can reach patients that need skin transplants in the future.
What are your plans, if any yet, for after your PhD? Do you plan on staying in Australia and continue working in the related field?
I would like to keep working in the field as a research fellow or get a job in the industry, but I don't have any specific plans yet. I would love to stay in Australia, but I am also open to go back to Brazil or anywhere I can find a job.
What's the best aspect of your work?
I think my favourite aspect of doing research is the hands-on experiments. I love working in the lab, carrying out experiments and testing ideas. The excitement of finding something new, solving problems and getting the work done. It's an interactive and intriguing way to learn new things.
If you weren't studying a PhD, what do you think you would be doing with yourself?
Good question… I guess would probably still be in Brazil, working in a clinical analysis laboratory. But I definitely prefer to be here doing what I am currently.
Thanks, Luciana.
Who we collaborate with