IPRI research strengths on display for NSW Chief Scientist and Engineer
The ARC Centre of Excellence for Electromaterials Science's (ACES) Intelligent Polymer Research Institute (IPRI) node at the University of Wollongong had the opportunity to showcase what it does best this week, with a special visit from the NSW Chief Scientist and Engineer, Professor Hugh Durrant-Whyte.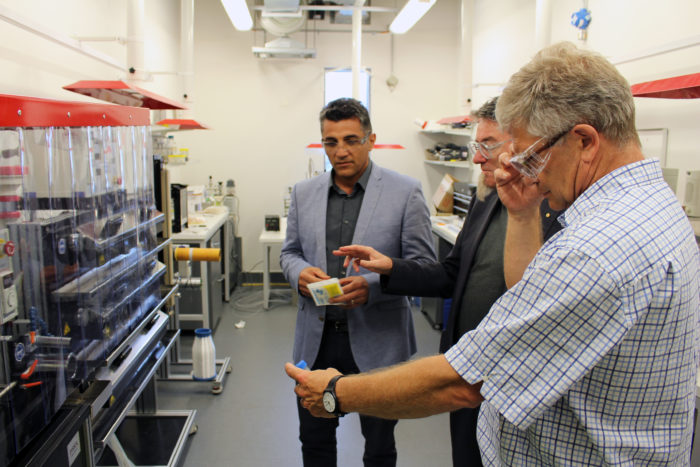 Prof Durrant-Whyte toured the IPRI facilities in the AIIM Building at the Innovation Campus, as well as the team's new 3D bioprinting initiative, TRICEP (Translational Research Initiative for Cellular Engineering and Printing).
As part of his visit, Prof Durrant-Whyte gave a short address to IPRI staff and students, outlining the role of the Office of the NSW Chief Scientist and Engineer, which holds three main responsibilities: to provide independent advice to assist in decision-making on difficult policy problems that involve engineering or science; to set up innovation network between government, universities and industry that build and enhance resources within the State; and to raise the profile of science to ensure our knowledge and research strengths can be adapted and used to benefit NSW.
ACES Director Professor Gordon Wallace said he was thrilled to host the NSW Chief Scientist and Engineer to discuss taking the fundamental discoveries from ACES research to build new commercial opportunities.
"ACES has a track record of achieving some impressive milestones in materials science and translation, and we are always keen to learn more from experts like Prof Durrant-Whyte as to how we can further exploit what we do in a positive way to bring about benefit and sustainability for researchers and industry in NSW," Prof Wallace said.
"At ACES, we are transitioning from a focus on pure fundamental research to working with experts to translate these findings into practical solutions that bring about real knowledge advancement and social and economic benefits.
"In creating commercial opportunity from our research, we hope that we can help to ensure that industry in NSW is diverse and in a position to take on our graduates well into the future."
Professor Hugh Durrant-Whyte was appointed NSW Chief Scientist and Engineer in September 2018. Prior to his appointment, Prof Durrant-Whyte was Chief Scientific Adviser for the UK Ministry of Defence. Prof Durrant-Whyte was also recently Director of the Centre for Translational Data Science at the University of Sydney, formerly Chair of the NSW Government's Innovation and Productivity Council, and formerly head of National ICT Australia, now CSIRO's Data61. From 1995 to 2010 Prof Durrant-Whyte was Director of the ARC Centre of Excellence for Autonomous Systems and of the Australian Centre for Field Robotics.
Who we collaborate with