Researchers unite for the 2019 ACES Symposium
Internationally renowned researchers from around the globe came together from far and wide last week from February 11-13 to highlight what they do best… multidisciplinary science. The stage to do so was set – and that stage was the 13th Annual International Electromaterials Science Symposium hosted by Deakin University at the Pier Geelong.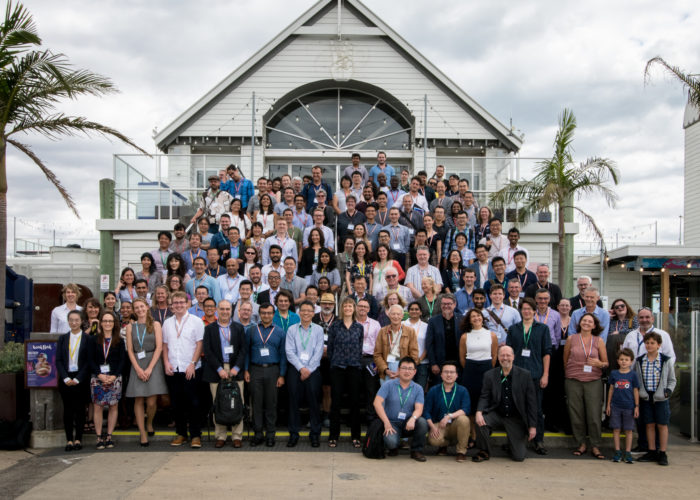 Over three exciting research-filled days, the Symposium saw each of our eight Australian research nodes (UOM, UOW, Deakin, Monash, ANU, UNSW, Swinburne and UTAS) and international collaborators join forces to review the most recent advances in materials science highlighting translational aspects across the broad areas of health, energy and ethics.
As per the ACES remit, this meeting had a strong focus on the younger generation scientists, giving them the opportunity to network as well as showcase their research activities with world-leading researchers from the UK, USA, Japan, Ireland, India, France, Chile, Spain and Korea.
The symposium was opened by our hosts, ACES Chief Investigators Prof Maria Forsyth and A/Prof Jenny Pringle, and Deakin University Vice-Chancellor Prof Jan den Hollander, with further welcoming remarks from ACES Director Prof Gordon Wallace. Two days of insightful presentation sessions followed and the third day gave ACES the opportunity to showcase the depth and breadth of the translational research activities from our research themes. This also included demo display set up from TRICEP and BatTRI-Hub and our work in thermocells and soft robotics – all of which a big hit during the breaks.
Over 58 posters were on display throughout the three days, generating further discussion amongst participants. Congratulations to Pierre Martin (Deakin), Shaikh Nayeem Faisal (UOW), Jawairia Khan (UOW) and Liang Wu (UOW) for their posters, which were awarded and recognised as being the most outstanding.
"Undoubtedly, the main benefit from the Symposium came from bringing different disciplines and people from different countries together. It was great to see people coming together and talking about the work they had just heard about and the new ideas that are emerging as a result. There is no doubt in my mind that lasting collaborations will grow from these interactions," said Jenny.
"The highlight for me was seeing students meet the authors of the papers they have been studying and getting such positive feedback and encouragement from these experts in the field."
The Symposium was wrapped up after the ACES Showcase with three entrepreneurship pitches before Prof Forsyth and A/Prof Pringle bided farewell and safe travels to all who attended.
ACES would like to thank all of the generous Symposium sponsors, including ProDigitek, the Institute for Frontier Materials, Korea Kiyon, Perkin Elmer and Netzsch. ProDigitek and Netzsch were also kind enough to donate prizes to the poster winners, with ProDigitek donating to Jawairia Khan and Liang Wu, and Netzsch doing the same for Pierre Martin and Shaikh Nayeem Faisal.
Who we collaborate with