Our vision for 3D bioprinting in Australia
For a long time now, our researchers, innovators and collaborators have shared a vision. A vision to take ideas to industry, and to use fundamental research and the knowledge accrued from this as the fuel to create commercial opportunity.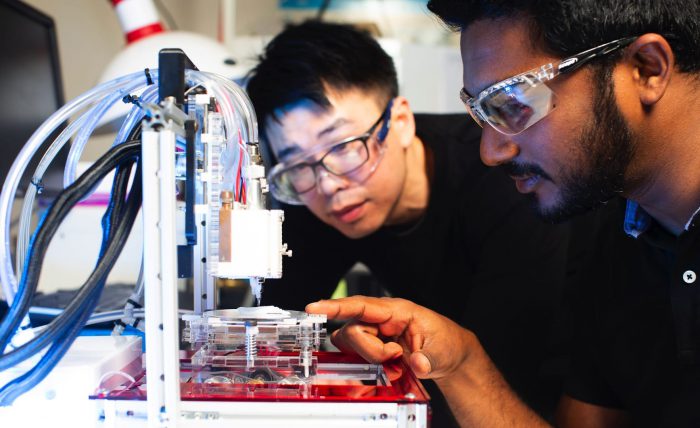 Our new initiative, TRICEP (Translational Research Initiative for Cellular Engineering and Printing), which we launched in late 2018, will help us to achieve just that in the area of 3D bioprinting.
TRICEP, a 100% owned initiative of the University of Wollongong, is a bold step forward in developing innovative technologies using 3D bioprinting. Our researchers and technicians can commercialise opportunities in 3D bioprinting including printer manufacturing, biomaterials, bioinks, and material-cellular combinations to address industry challenges that require an exclusive, tailored solution.
3D printing has brought creativity back into manufacturing. We can envisage, in our mind's eye, a structure wherein the most advanced materials are strategically distributed to deliver customised shape and customised function.
With 3D bioprinting we introduce living cells to that structure – combinations of living cells, bioactive materials strategically distributed in 3D to deliver customised biological function.
This advancement has attracted the attention of the clinical community around the world. Here in Australia, it has not only attracted their attention but also their active engagement.
This ability to arrange living cells in 3D advanced material structures enables us to tackle significant challenges including:
Cartilage regeneration (with Prof Peter Choong at St Vincent's Hospital Melbourne);
Corneal regeneration (with Prof Gerard Sutton at Lions NSW Eye Bank);
3D printed ears (with A/Prof Payal Mukherjee at Royal Prince Alfred Hospital);
3D printed structures for islet cell transplantation (with Prof Toby Coates at Royal Adelaide Hospital).
These are real challenges looking for real solutions and the commercialisation of 3D bioprinting will take us towards providing these results.
Moreover, these technological breakthroughs have emboldened us to confront medical challenges where giant steps are needed, and needed soon, namely in the area of neurological diseases.
Projects like our 'brain on a bench' project in collaboration with Prof Mark Cook (a neurologist dedicated to finding better ways to treat epilepsy) and Prof Xufeng Huang (an MD and researcher equally dedicated to finding better ways to treat schizophrenia) are critical in developing solutions that can change the lives of millions of people living with these medical conditions.
So why Australia?
Australia is remote, we can not deny that, however due to advances in technology we are truly globally connected.
We have integrated activities that enable us to traverse the 'ideas to industries' pipeline. TRICEP will enable identification and realisation of commercial opportunities that will emerge along that pipeline, including using local skills to transform existing industry to help them realise prospects in this emerging area.
We also have the advantage of experience with regulatory, ethical and community engagement activities, and working with those with a flair for development of new commercial models to ensure activities are sustainable. This is a rare combination of skills integrated to ensure delivery of real medical solutions.
With our activities in ACES and ANFF, our strong national network is growing into a global clinical network. At present, we have numerous active collaborations in more than 50 countries. Recently, we also signed an MOU with the Korean Society of 3D Printing in Medicine (KS3DPM).
We have an active program to take Australian 3D bioprinting to the world, which includes regular showcases hosted by Australian Ambassadors in Embassies around the world.
We can use these networks to take Australian commercial ventures in 3D bioprinting to the world.
And that's not all – we will need a workforce skilled in the art. Australia leads the world in training in 3D biofabrication. We have our world-first global Masters in Biofabrication involving QUT and UOW in partnership with Utrecht and Wurzburg Universities. Our world first 3D Bioprinting MOOC attracted some 27,000 participants from over 145 countries to date, and will start its 10th run on 28 January 2019. An ARC-funded training hub led by Dietmar W. Hutmacher at QUT involving a number of companies is engaged in training our students in this emerging area.
People are the core asset!
We are grateful for the facilities and equipment, but it is the people that bring our vision to life.
Our team at TRICEP is committed to driving innovation and collaboration to help research and industry partners capitalise on commercial opportunities in the growing 3D bioprinting market.
Our Leadership Team includes:
Prof Gordon Wallace – TRICEP Director
Dr Stephen Beirne – TRICEP Associate Director, Additive Technologies and Printing
Dr Sanjeev Gambhir – TRICEP Associate Director, Bioinks and Biomaterials
Prof Peter C. Innis – TRICEP Associate Director, Operations and Engagement
We are determined to use Australia's position in research and training in 3D bioprinting, and the clinical network that has evolved to ensure that commercial opportunities are identified and realised.
TRICEP, through its world-leading research infrastructure and people, will help us do that.
Who we collaborate with