Malachy Maher shares his EMBL PhD Symposium experience in Germany
PhD student and ACES affiliate within the Intelligent Polymer Research Institute (IPRI), Malachy Maher, received one of ten travel grants awarded by EMBL Australia last year to attend the 20thEMBL PhD Symposium in Heidelberg, Germany, held in late November.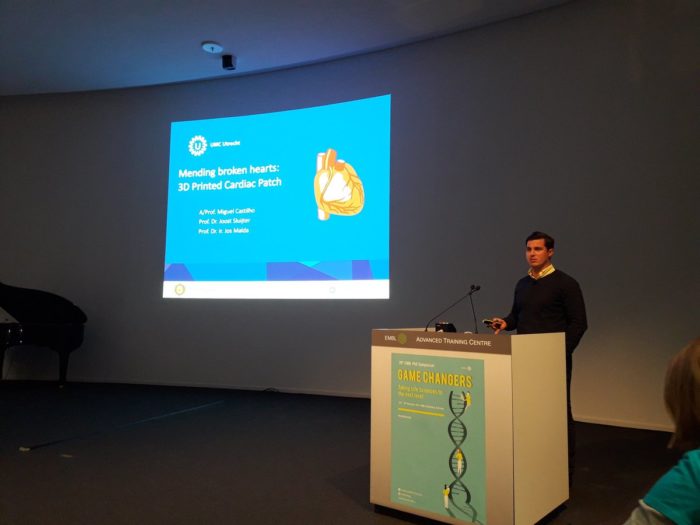 EMBL is a consortium of 7 groups, which form the European Molecular Biology Laboratory. The symposium focused on Game Changers in the Life Sciences and featured presentations from Nobel Laurates, distinguished professors and students, including Malachy.
Malachy is a joint PhD student between UOW and CSIRO and is working on 3D bioprinting collagen hydrogels for Orthopaedic applications. From November 20-24, he attended the symposium in Heidelberg, Germany, and delivered both an oral and poster presentation, on Biofabrication strategies and their translation into novel clinical solutions. Below is his recap of the symposium experience.
"Having the opportunity to attend such a prestigious symposium and learn from and connect with 100 odd other doctoral researchers was an incredible opportunity. While we all work in the Life Sciences field, there was still a great deal of difference between everyone's work and background. This created a complimentary environment and the networks created and horizons we were exposed to will undoubtedly prove beneficial in the future.
Of particular interest to me was the presentation from A/Prof Martin Jinek, who explained key mechanisms and principles underlying the highly promising gene editing technology, CRISPR/Cas9, and how it can be utilised. Prof Jinek explained that while the efficiency and accuracy of editing target genome sequences while not introducing off site effects remains a challenge, the potential of this technique in the future is enormous.
The student organising team within EMBL truly executed a successful conference and highlighted the beauty of Heidelberg and the research strengths within. This opportunity was made possible by the support of EMBL Australia, which allowed for ten young Australian researchers to promote Australian research on the global stage. It was a great experience.
You can find more information on the 20th EMBL PhD Symposium here.
Who we collaborate with