Prof Jari Hyttinen joins ACES for ten week sabbatical
The ARC Centre of Excellence for Electromaterials Science is delighted to have Prof Jari Hyttinen visiting us on a 10 week sabbatical from Tampere University of Technology, Finland.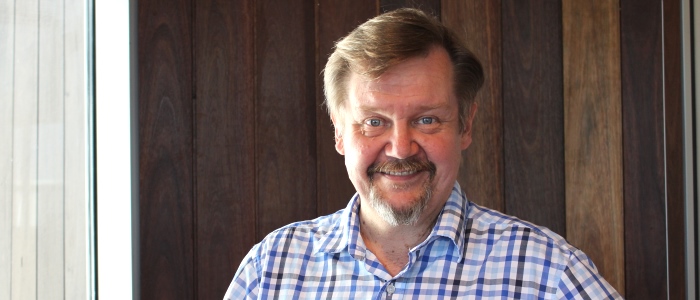 Jari heads up the Computational Biophysics and Imaging Group (CBIG) which aims to deliver new knowledge and methods for future personalised medicine through the development of 3D bioimaging,  bioelectronics and computational modelling tools for new personalized treatments, diagnostics and drug discoveries, especially those enabled by tissue engineering and stem cell research. The group is part of the BioMediTech Institute and Faculty of Biomedical Sciences and Engineering at Tampere University of Technology.
The collaborative relationship between ACES and Jari came about after he collaborated with Suvi Haimi, a colleague in Finland. Suvi visited ACES a number of years ago to present at a conference and collaborate with our researchers.
Jari is looking forward to discussing potential collaboration with a number of researchers based at the University of Wollongong and hopes to travel to some of the other ACES nodes while he is here. Working in stem cell research, Jari is particularly interested in our 'brain on a bench' project and 3D printing of human iPSCs.
In addition to his other positions at Tampere University of Technology, Jari is the past President of the European Alliance of Medical and Biological Engineering and Science (EAMBES), a not-for-profit international organisation that unites most scientific societies and academic and research institutions located in Europe involved with Medical and Biological Engineering and Science.
This is not Jari's first visit to Australia as he and his family spent a year in Tasmania in 1990 while he was studying his PHD. He is looking forward going back to visit Hobart as well as exploring more of Australia.
Who we collaborate with