Visit to Germany strengthens alliance between ACES and Helmhotz Zentrum Berlin
A recent visit to Germany by researchers Dr Alexandr Simonov and Professor Douglas MacFarlane has strengthened the alliance between ARC Centre of Excellence for Electromaterials Science (ACES) and Helmholtz Zentrum Berlin.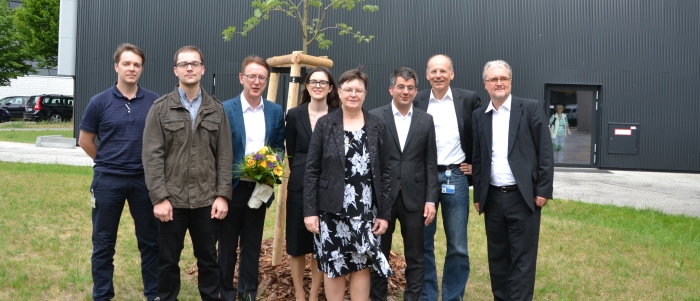 ARC Centre of Excellence for Electromaterials Science (ACES) reserachers Dr Alexandr Simonov and Professor Douglas MacFarlane were invited to visit Helmholtz Zentrum Berlin (HZB) in June to build on the strategically important alliance between ACES and German specialists in advanced spectroscopic analysis.
During the visit Dr Simonov and Prof MacFarlane were involved in extensive discussions on promising future collaborations and had the opportunity to tour the labs in the BESSY-II synchrotron facility as well as other HZB labs. They also toured the Fritz Haber Institute which specialises in X-ray and electron paramagnetic resonance (EPR) spectroscopies.
Dr Simonov said as a result of the visit, an informal strategic agreement between ACES and HZB has been achieved with the aim of intensifying student and staff exchange between Australia and Germany starting from 2018.
He said formal collaboration is expected to be strongly supported by the Helmoltz International Research School program.
"The ultimate goal is to shape strong multidisciplinary research teams working in tandem in Germany and Australia, contributing complementary competences to deliver top-quality research and bi-national educational and training program underpinned by complementary strengths from partners," Dr Simonov said.
The ACES-Germany link will provide ACES researchers with the opportunity to include high-end ex situ and unique in situ electrochemical X-ray absorption spectroscopy, EPR and X-ray photoelectron spectroscopy.
Ex situ means that the materials are analysed either prior or after being tested in a device, i.e. not under operating conditions but in a rest state under ambient conditions, which is in most cases very different from the operating state.
"In situ" means that electromaterials are analysed under real operating conditions, i.e. while they are functioning inside e.g. a battery or an electrolyser. Developing in situ spectroscopic techniques is a very challenging task, especially when talking about X-ray based methods. In situ spectroscopic analysis of electromaterials under real operating conditions is critical for understanding the mechanisms of relevant processes and for the design of new, better performing materials.
Who we collaborate with