ENT Surgeon joins the ACES team in Bioprinting Massive Open Online Course (MOOC)
The University of Wollongong's Bioprinting MOOC is now in its 7th run and we are pleased that over 30,000 people have participated and learnt more about the revolution in medicine that 3D bioprinting is making possible.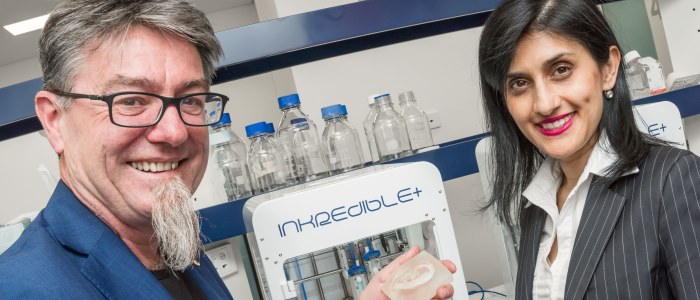 Apart from the biomedical engineers and scientists, another critical member of the research team is, of course, the clinician, who identifies the actual need for the use of a 3D printed structure to solve a medical condition.
In this course you will be introduced to our key researchers working in the ACES laboratory but also a number of clinicians who are driving particular projects, identifying needs and understanding the potential advantages of using 3D printing to deliver a unique clinical solution.
Clinicians collaborating with the ACES team include: Prof. Peter Choong from St Vincent's Melbourne (cartilage development from stem cells and the biopen), Prof. Toby Coates (printed structures to facilitate islet cell transplantation), Dr Stuart MacKay (printed structures to understand airway collapse and prevention), Dr Chris Baker (wound healing) and Dr Gerard Sutton (corneal regeneration).
Our upcoming MOOC (starting 18th September) features a new project where you will meet Ear Nose and Throat (ENT) surgeon Dr Payal Mukherjee who is working with ACES researchers to help patients with Microtia.
Microtia is a congenital deformity where the ear is underdeveloped or partly missing and can impact on a person's hearing ability.
The team is now working towards ear implants for cosmetic purposes so that people can wear a hearing aid or glasses, and in the future, more complex vascular ear structures where you can print two types of materials simultaneously – Stem Cells into a Cartilage Gel structure – and facilitate the ability to process sounds to the brain.
You can learn how they intend to print a human ear – and other 3dbioprinted structures in the 'Bioprinting: 3D Printing Body Parts' free online course available with our social learning partner FutureLearn.
The MOOC can be completed by anyone from anywhere in the world. And if you are only interested in some of the course not all of it, that's the beauty of the FutureLearn platform. You can do as much as you like. Even if you don't have a scientific background, the course is pitched to a more general audience and has videos to help explain the science behind 3D printing.
Happy Learning!
Who we collaborate with