Charles Hamilton reflects on his Harvard experience
When US-born Masters student Charles Hamilton accepted an ARC Centre of Excellence for Electromaterials Science (ACES) scholarship to study at the University of Wollongong's Innovation Campus he had no idea it would lead him back to the US for a stint at Harvard University. Charles tells us about his experience.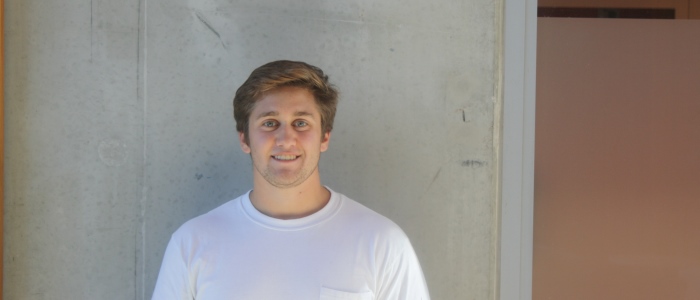 Where did you grow up?
I grew up in the suburbs of Middletown, New Jersey on the east coast of the United States.
What did you study as an undergraduate?
I completed my undergraduate education at Colgate University in Hamilton, New York in 2015 where I graduated with honours in physics and a minor in chemistry.
What did you study as part of your ACES scholarship?
The ACES scholarship at the University of Wollongong was for a Masters degree to work on 3D printing tough actuating hydrogel materials under the supervision of Marc in het Panhuis, Geoff Spinks, and Gursel Alici.
Why did you go to Harvard University?
I was a visitor of The Vlassak Group (Prof. Joost Vlassak and Prof. Zhigang Suo (who also has his own group). I was based at the School of Engineering and Applied Sciences at Harvard.
Student-wise it was primarily Kevin Tian with the help of Jinhye Bae and Canhui Yang.
The Soft Materials Group has collaborated with the Vlassak Group in the past and a previous student, Shannon Bakarich, was over there working on 3D-printing ionically conductive hydrogels in some work that was published earlier this year.
Everyone thought that great progress was being made and we wanted to continue the collaboration by identifying some areas/applications that could be useful and this was one of them. While I was there I also presented a poster at the 2017 MRS Symposium.
What did you work on?
I was in Harvard from November 2016 to February 2017. While I was at Harvard I worked on using capacitive coupling of a 3D-printable hydrogel-elastomer device to detect electrical signals. Basically a proof of concept working towards a soft 3D-printable cuff electrode for peripheral nerve signal sensing.
It should fit nicely into ACES in the aspect of controlling the soft robotic prosthetic hand.
What did you learn from the experience?
Profs Vlassak and Suo were extremely knowledgeable and I learned a lot from them in terms of passing electrical signals through ionically conductive hydrogels and understanding some key concepts on a more fundamental level. I also learned a lot about how different institutions run their research labs and how things can be structured. I spend most of my time at Wollongong working with hydrogels and liquid metal alloys so it was nice to work with some elastomeric materials over there too.
How does your work in the US relate to your work here?
Well, the preliminary results were very promising and we're looking to continue moving forward with the project. We have identical 3D-printer setups at Harvard and Wollongong so we can easily work on the project simultaneously. Overall, we'd like to scale the size of it down and really test the limits of the device. Eventually the goal will be to see if we can use it to detect signals on the sciatic nerve of an animal.
What is next?
I recently completed my Masters degree and I am now back in the US studying medicine at Robert Wood Johnson Medical School in New Jersey.
Who we collaborate with