ACES welcomes exchange students for BioFab research
Three students from Würzberg University in Germany will call Australia home for the next 12 months as they complete their Master of Philosophy in BioFabrication as part of a program between ACES and three leading research universities worldwide.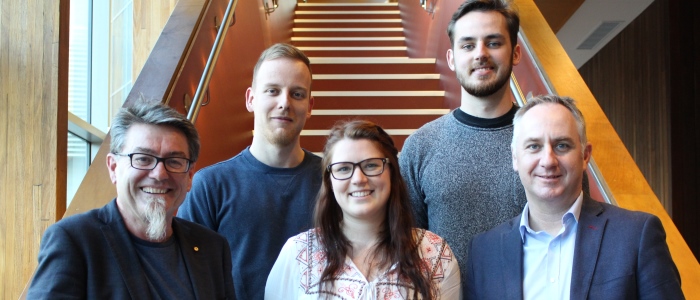 Juliane Kade, Maxim Brodmerkel and Marius Berthel will complete the program at the University of Wollongong (UOW) under the supervision of ACES Director Professor Gordon Wallace and Associate Professor Michael Higgins.
The students will be working on projects such as 3D printed structures for cartilage growth, 3D printed biodegradable stents with drug delivering capabilities and 3D delivery systems for controlled drug release in the treatment of epilepsy.
As a Centre of Excellence, ACES provides the opportunity to work collaboratively across a number of nodes and themes. Although primarily based at UOW, these students are looking forward to working with experts across a number of different research specialties all working together to create next generation functional devices.
The partnership between UOW, Queensland University of Technology in Australia, University Medical Center Utrecht in the Netherlands and University of Würzburg in Germany, allows graduates to obtain two Masters Degrees; one in Australia and one in Europe.
There are currently three students from UOW studying overseas as part of this program, one of these students is at Würzberg University.
The visiting students expect to make a number of international connections while in Australia, hoping that it will provide them with an advantage for further tertiary study.
The course itself aims to open up international career opportunities in areas such as future manufacturing, energy technologies, materials and biomedical engineering.
When not tied down by their cutting-edge research projects, Juliane, Maxim and Marius would like to see what else Australia has to offer, with the Great Barrier Reef and Uluru at the top of the list!
Two students from Utrecht have also been studying at UOW as part of this degree for the last few months, they will be returning home shortly to complete their study.
You can find more information on the Master of Philosophy in BioFabrication here.
Who we collaborate with