Graduate Spotlight: Leo Stevens
Leo Stevens finished his PhD with ACES lead node, the Intelligent Polymer Research Institute at the University of Wollongong in 2016.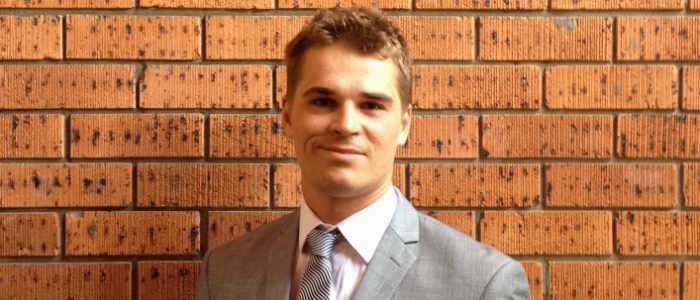 He's currently working across several jobs and projects including continuing his material science research, lecturing at the University of Wollongong and sitting on the advisory board of a start-up company.
Research
During my PhD I worked as part of a team that was trying to improve regeneration in injured nerves. My contribution to that effort involved designing and testing new materials that would support nerve cells and direct their regeneration through a channel known as a 'nerve guide'. It was an exciting project with a great real-world application, and I'm happy to have chipped in.
Experience at ACES/IPRI
My favourite experience from ACES would have to be the conferences, and in particular, one I attended in Boston at the end of 2015. Conferences provide a fantastic opportunity to meet fellow researchers, learn interesting things, and see a new part of the world, not to mention stretching your legs away from the confines of the office or the lab. I suspect most PhD students would give a similar answer, attending conferences is undoubtedly one of the perks of a research career.
ACES is underpinned by a long term grant from the Australian Research Council that provides a level of certainty and continuity that is rare in the modern academic world. This funding has not only allowed IPRI to build great facilities and hire great researchers, but it has also attracted a large network of collaborators from Australia and the across the world. It is rare for a PhD student to be able to tap into such a rich pool of knowledge and equipment, and that absolutely opens doors in terms of both research and professional development. Hopefully the next crop of PhD students is driven enough to take up those opportunities to expand their horizons, and perhaps ours as well.
The Future
In the university sector you often hear the comment that great research is being done, but there is not enough training or incentive to support researchers to transition their work into real-world products. I've been doing my best to build business skills alongside my academic training, so I will be able to make myself useful in bridging that gap between research and reality. Ultimately, I'd love to run a commercial R&D hub or start-up incubator, helping to invent new technologies and then taking those products to market
Leo graduated in 2017. His supervisors were Gordon Wallace, Marc in het Panhuis and Kerry Gilmore.
Who we collaborate with