New 3D printed polymers for wound healing
3D printing capabilities and expertise in developing hydrogels for wound healing has attracted two senior researchers from Finland on a six month exchange to ACES.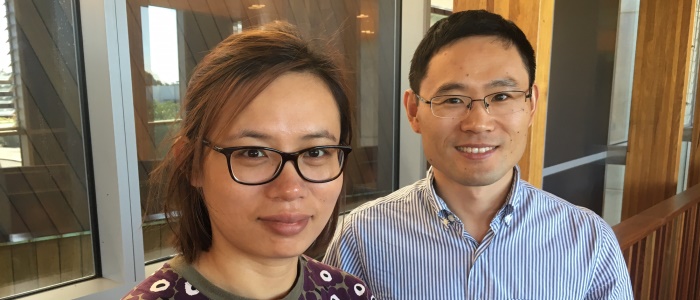 Dr Xiaoju Wang said she reached out to ACES at the University of Wollongong earlier in her career when she needed international expertise in drug-releasing polymers.
"Professor Wallace was very supportive at that time, and as my research has evolved over the years, I have called on ACES again to assist in the area of 3D printing and hydrogels," she said.
Glass, for wound healing?
Dr Wang is working with bioactive glasses—a reactive kind with superior bioactivity than that you'd find in an ordinary window—and exploring their use to release therapeutic ions for wound healing.
"The great thing about glass is that you can add different elements into the melt before it sets," she said. "In my case, I'm adding copper which can be released in aqueous media as Cu2+ to aid the vascularisation in soft tissue regeneration."
Extensive global research has already been undertaken in the healing properties of bioactive glasses, with compositions already commercialised for use in bone and dental regeneration applications.
Dr Wang is focused on exploring the use of bioactive glasses outside the skeletal system.
"The reason I've come to ACES is for its expertise in 3D printing hydrogels that can house the tiny glass particles.
The idea is that when the resulting gel is applied to a wound, the glass particles begin to release inorganic ions, which are known to help the body heal."
Polymers from wood for wound dressings
Dr Chunlin Xu is on a similar path, although he is using a natural polymer called cellulose that is one of major components in wood, as the basis for his wound dressing.
Cellulose is the most abundant natural polymer on the earth. Moreover, the biocompatibility of cellulose and its use in wound care is well documented, and Dr Xu is interested in leveraging these benefits in a 3D printed gel.
"There are many benefits of using cellulose as the base of a healing gel," he said.
"It may act as a matrix to incorporate other bioactive components, for example, bioactive glass possessing antimicrobial properties, which means that it can help the wound to heal."
"It's also the main ingredient used to make paper, so you can appreciate that it is cheap to produce, particularly in Finland where we have plenty of trees," he said.
Drs Wang and Xu will be working on 3D printed hydrogels for wound healing until the end of May on exchange from the Åbo Akademi University, Finland.
Who we collaborate with