Australia Day honours for our director Gordon Wallace
Australian Laureate Fellow, Distinguished Professor Gordon Wallace, has been appointed an Officer in the General Division of the Order of Australia (AO) for his commitment to research collaboration and innovation.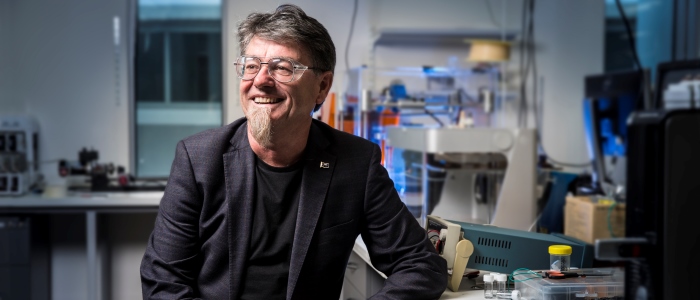 Established in 1975, the Australian Honours List recognises men and women for outstanding contributions that have made a significant difference to Australian life and to humanity at large.
Professor Wallace is Executive Research Director of the Australian Research Council Centre of Excellence for Electromaterials Science (ACES), Director of UOW's Intelligent Polymer Research Institute and Director of the Australian National Fabrication Facility – Materials Node.
The award recognises his distinguished contribution to nanobionics research, his commitment to research collaboration and innovation, and the subsequent economic, educational, technological and health benefits on a national and international scale that have been generated by his research activities.
Professor Wallace was appointed as a Professor at UOW in 1990 and has published more than 700 refereed publications in his distinguished career, despite having never dreamed of being a scientist when growing up in Belfast, Northern Ireland.
Although his childhood passion for football (soccer) initially exceeded all his other interests; it was during his high school years that Gordon discovered his passion for science – a passion that has seen him recognised among the world's most imminent scientists.
"When living in Belfast football was all I dreamt about. When my parents emigrated to Australia with me and the other kids in tow, my disappointment turned to excitement thanks to the amazing science teachers I had," Professor Wallace said.
"I am honoured to receive this award on behalf of the many people I have been privileged enough to work with at UOW.
"It's heartening to see that contributions to science and engineering are valued by the community we work for," he said.
For Professor Wallace, his passion and drive for research and innovation doesn't stop with Australia Day honours. He is currently working on improving human performance via medical bionics, using tools and materials from intelligent polymer systems to develop biocommunications from the molecular to skeletal domains.
"For me, my proudest moment occurs every day when I pull into the car park at IPRI on the Innovation Campus and I know I am about to embark on another day of adventure and discovery with a group of people I love working with," he said.
"I am so proud that the culture at IPRI and ACES is such that we are driven to see fundamental discoveries and innovations through to benefit Australians."
Source: University of Wollongong
Read the transcript of Prof Wallace's Australia Day Speech on LinkedIn.
Who we collaborate with