Swinburne University of Technology joins ACES
ACES last month welcomed Swinburne University of Technology into its ranks, boosting the capabilities of the institutions working together to translate breakthroughs in fundamental materials science into next generation health and energy devices.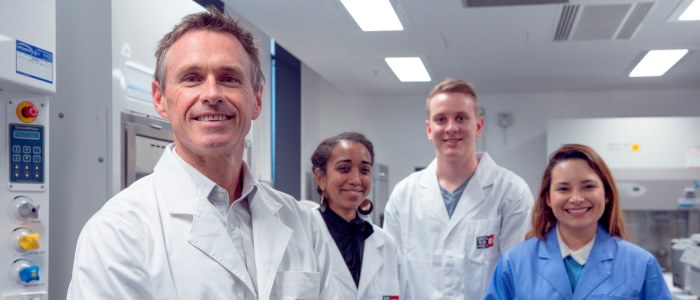 The collaboration came about after Prof. Simon Moulton moved from ACES' headquarters in Wollongong for an opportunity to run his own research program at Swinburne.
Prof. Moulton established his career at the University of Wollongong, and under the ACES umbrella, helped to steer the bionics and drug delivery program.
The move allowed him to expand his research area of stimuli responsive materials for biomedical applications and establish new links in Melbourne's vibrant MedTech and health sectors.
The formal collaboration with Swinburne strengthens the ACES Synthetic BioSystems program.
"Swinburne brings new expertise to ACES with a focus on new functional materials development," Prof Moulton said.
Swinburne provides capabilities in surface functionalisation using plasma polymerisation methods as well as a strength in the optical stimulation which underpin three new joint projects:
Developing an optically active drug delivery system to provide a means to deliver relevant bio-factors for the 'Brain on a Bench' and the 'Nerve Conduit' device.
Synthesising optically and electrically active composite materials, based on a graphene-gold composite, in order to use optical and electrical stimulation to influence cellular behaviour.
Developing hydrogel materials that can be 3D extrusion printed that are capable of delivering drugs, either by optical or electrical stimulation.
These projects are based around the fabrication of stimuli-responsive electromaterials and involve researchers in ACES' Electromaterials, Electrofluidics and Diagnostics and Synthetic Biosystems programs. Importantly, the projects also provide an opportunity for PhD students—Daniela Duc, Lilith Caballero Aguilarto and Shaun Gietman—to build a career in developing drug delivery systems.
"These students were selected through a comprehensive recruitment process and are the first cohort of Swinburne PhD students working on ACES related projects," Prof Moulton said.
"They come from a wide range of backgrounds from medicine, chemistry and biomedical engineering and are already making great progress towards their respective project milestones.
"They are a great addition to the ACES community," he said.
ACES Director Professor Gordon Wallace welcomed Swinburne colleagues to the team.
"The research challenges we have undertaken to address in ACES can be most effectively and efficiently tackled by building the best possible team across the nation," he said.
Who we collaborate with