ACES signs collaborative agreement with Chinese Academy of Science
ACES has formalised a research collaboration with the Institute of Chemistry at the Chinese Academy of Science (ICCS).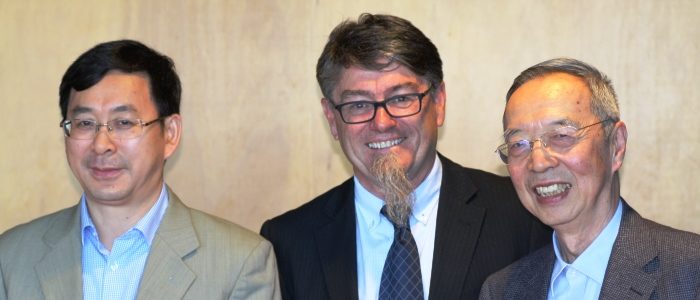 This week ACES hosted six representatives from ICCS, the biggest research-intensive institute in China.
A Memorandum of Understanding was signed by Professor Gordon Wallace (Director, ACES) and Professor Deqing Zhang (Director, ICCS) in a ceremony at ACES headquarters, the University of Wollongong's Innovation Campus.
Former ICCS Director and current ACES International Advisory Board member Prof. Daoben Zhu also attended the signing, which followed a one-day workshop with presentations given by both institutes.
The collaborative arrangement outlines research into the use of 3D printing as a platform to create novel structures for applications in bionics, sensors and energy storage/conversion.
Short term visits will take place to each institution.
Pictured from left: Prof. Deqing Zhang, Prof. Gordon Wallace, Prof. Daoben Zhu
Who we collaborate with