Printing Body Parts: An Online Introductory Course
A free online course, headed by ACES Director Gordon Wallace, will enable people to discover how the world of 3D printing and new biocompatible materials is allowing scientists and surgeons to rethink approaches to healthcare.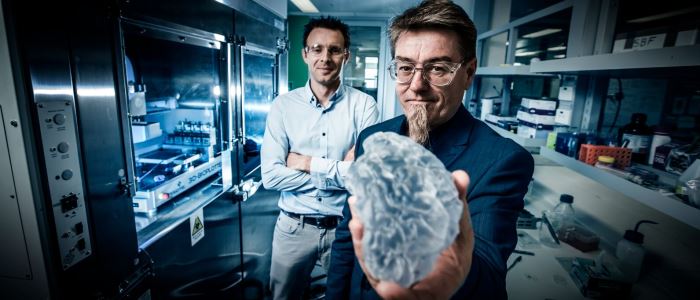 ACES' headquarters, The University of Wollongong's Australian Institute for Innovative Materials (AIIM) will from November 23 run the four-week online course 'Bioprinting: 3D Printing Body Parts', through UOW's partnership with global online learning platform FutureLearn.
What's next?
The online course will tell the story of the beginnings of 3D printing, how it is currently being used and what will be possible in years to come.
Professor Wallace summarised the revolution:
"We started this journey only a few short years ago by taking off-the-shelf office printers and having our engineers rebuild them to be able to print a bio-ink, embedded with human cells, that we had just developed," he said.
"In the short time since, revolutionary scientific advances in 3D-printing technology and the development of amazing biomaterials, which can seamlessly integrate into the body, means we may be only a few years away from a time when every major hospital will contain 3D printing capabilities.
"This emerging field of biofabrication is being made possible through connections between medicine and technology and we are now seeing previously unimaginable developments, such as prosthetic limbs controlled by thought alone, and bionic implants to restore lost senses, and of course – 3D printing of human organs."
Professor Wallace's team employs equipment and technical support from the Australian National Fabrication Facility (ANFF).
Personalised implants
Course material will be presented in language understood by a general audience and will use case studies to illustrate the impact 3D printing already has on the ability to create customised medical devices.
These case studies include the 3D printing of personalised titanium hip implants using selective laser melting, the creation of made-to-fit masks for facial transplant recipients using hot melt extrusion, and the potential for lab-grown organs structured through the ink-jet printing of living cells.
The course is four weeks duration, requiring two hours of study per week. It is aimed at high school leavers considering studying the course at university or current undergraduates.
The 3D Bioprinting course provides a taste of what students will learn through undergraduate study at UOW in the disciplines of degrees in science, mechatronics and materials engineering, and later as part of the new Masters degree in Biofabrication.
Who we collaborate with