Battery to power implant, then disappear
A battery that could be inserted in the body to power a medical implant and then simply disappear once used is one step closer.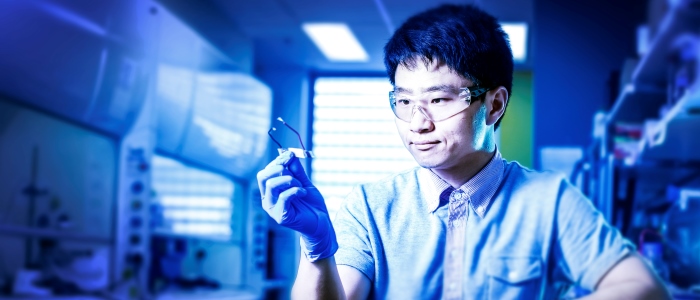 Most implants in use today are for permanent use, such as pacemakers, however emerging technology focusing on temporary implants is gaining ground, with anticipated uses in wound healing, disease tracking and drug delivery.
World-leading research by the ARC Centre of Excellence for Electromaterials (ACES) has produced a partially biodegradable and biocompatible battery that, with a little further work, may one day power such biodegradable implants.
Batteries in use today contain toxic electrodes, with little research having been carried out on using more human friendly alternatives. Not only that, the research to date has only produced batteries with short lifespans and low power outputs.
More power, long life
The ACES development, a magnesium-air bio-electric battery, possesses a high theoretical voltage and a significantly longer lifespan.
The benefits of the ACES research are threefold: one, a potential reduction in surgery due to device removal being unnecessary; two, a reduction of chronic inflammation; and three, the battery would aid in tissue regeneration.
ACES Director Professor Gordon Wallace explained the incredible device thus:
"An important aspect of the project is that the bio-battery is designed to be functional – so the electrodes that store energy are also capable of facilitating the proliferation and differentiation of cells to facilitate tissue regeneration," he said.
"The battery uses oxygen available in biological fluids. The power source is fabricated from materials that are cytocompatible (compatible with cells)."
Tissue regeneration?
Professor Wallace said further work would turn to manufacturing methods for the battery and confirm that the energy discharge and associated biodegradable do in fact support tissue regeneration.
"We continue to refine all components of the bio-battery with a view to making it printable," he said.
Authors Xiaoteng Jia (PhD candidate), Doctor Caiyun Wang, Chen Zhao (PhD candidate), Yu Ge (PhD candidate) and Professor Gordon Wallace have had the work accepted in Advanced Functional Materials under the title Towards Biodegradable Mg-Air Bioelectric Batteries Composed of Silk Fibroin-Polypyrrole Film.
Who we collaborate with