Exchange program boosts collaborations
ACES strengthened its collaborative ties with Japan recently through a researcher exchange program.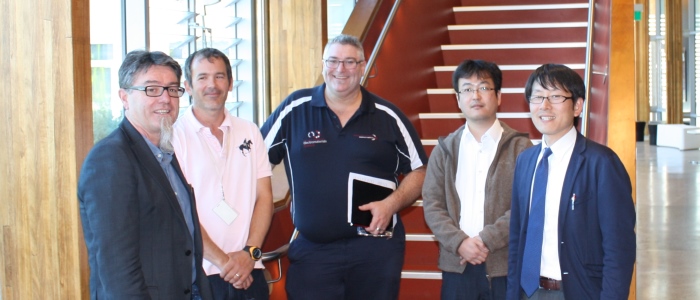 Assistant Professor Masahiro Yoshizawa-Fujita (aka Yoshi) visited Monash University's School of Chemistry as part of the Australia Japan Emerging Research Leaders Exchange Program (ERLEP).
The aim of the ERLEP is to foster an exchange of information on each country's science and technology policies, and research and administrative systems. This will allow participants to better understand the other country's policies and systems in a way that will facilitate the establishment of individual and institutional collaborations and research networks.
A/Prof Yoshi, of Sophia University, presented his own research to the Monash department and met with many of the school's PhD students to discuss their work.
The ACES Monash team said it was a pleasure to host A/Prof Yoshi and they looked forward to future discussions.
Yoshi also visited ACES at Wollongong with Associate Professor Tatsunosuke Matsui, from Mie University, as part of the program, which is hosted by The Engineering Academy of Japan (EAJ) and Australian Academy of Technological Sciences and Engineering (ATSE) and in its sixth year.
ACES Wollongong staff and students were treated to presentations by the visiting researchers and discussed their work.
Who we collaborate with