Masters primes graduates for emerging high tech jobs
Whether it be harvesting energy through people's body heat, powering bio-implants through nanotechnology, or creating soft robotic hands, the brave new world of electromaterials is expanding so rapidly that there is a surging need for experts to explore and develop its potential.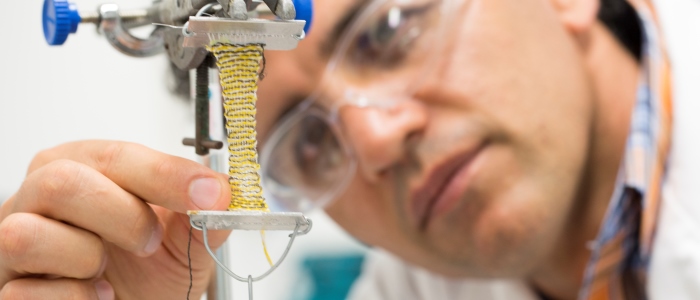 In a bid to prepare the skilled people who can progress the technology, Deakin University and the University of Wollongong (UOW) have joined forces to develop a world-first Masters of Philosophy (Electromaterials).
Course co-ordinator, Dr Jenny Pringle, said that the study of electromaterials has, until now, been confined within subjects like chemistry, electro-chemistry or materials engineering, but a dedicated masters is now needed to provide the depth required to take the technology to the next level.
"Advances over the past decade, particularly through nanotechnology and 3D structuring, carbon materials, conducting polymers and electrolytes, mean that electromaterials can be used in many different disciplines," said Dr Pringle.
"The job opportunities are there, but few people have the skills to do them well."
In fact, the discipline of Electromaterials is so new that the term has not yet been included in the dictionary. The term basically means "high tech" materials in which ions or electrons carry out useful functions.
These materials are set to play a key role in the global transition to sustainable energy, offering promise in areas ranging from electric cars, to solar fuels, to thermal energy harvesting, amongst many others. They are also having a big impact on health applications, from diagnostics to implantable devices.
The two-year Masters program will be the first joint degree between Deakin and the UOW. Beginning in March 2016, it will provide a specialised coursework program through two jointly taught courses, with electives in complementary subjects, and advanced research training through a research thesis, co-supervised across both institutions.
It will be a full fee-paying course, available to both domestic and international students, with backgrounds in chemistry, engineering, materials or other relevant fields.
Having spent the past 10 years researching the field, Dr Pringle has been a pioneer of electromaterials research. As a Senior Research Fellow in Deakin's Institute for Frontier Materials, she is currently exploring the potential of new electrolytes for harvesting thermal energy from waste heat.
"Through electromaterials, we can now explore ways to harvest energy from sources like hot pipes in power stations, or car engines that would otherwise would have been lost," she explained.
"The efficient use of thermal energy will provide another important source of energy as we transition to sustainable energy. Ionic electrolytes have given us a more stable method for harvesting heat that can be used on heat sources up to 200 degrees Celsius – 100 degrees higher than water, with no evaporation."
Dr Pringle noted that the course has been designed to ensure students gain maximum benefit from the unique multi-disciplinary expertise within the ARC Centre of Excellence for Electromaterials Science (ACES).
The Centre incorporates six Australian collaborators, including Deakin and UOW, and five international partner organisations – all known for their expertise in materials and device fabrication.
"The ten research thesis projects we are offering represent the cutting edge of electromaterials technology, reflecting the range of research being undertaken at ACES," she said.
The projects cover such topics as bio-compatible batteries, or redox flow-air batteries; harvesting waste thermal heat; developing soft robotics for prosthetic devices; and creating implantable, self-powered structures to monitor neural tissue for treatment of conditions such as epilepsy or schizophrenia.
Article courtesy of Deakin University 
Who we collaborate with