Battery implant research scoops Bill Wheeler Award
An implantable lifesaving device that ultimately leaves no trace in the human body may be one step closer to reality thanks to the generosity of the Illawarra community.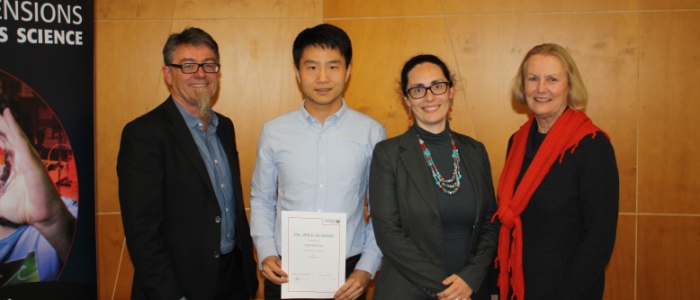 ARC Centre of Excellence for Electromaterial Science (ACES) student Xiaoteng Jia is working on a battery that would power such a revolutionary invention.
"The aim of my project is to develop an ideal power source, a biocompatible and biodegradable battery to drive the recent emergence of bionic implants," he said.
Drawbacks of today's implants, pacemakers for example, include inflammation and problems surrounding surgery. A biocompatible and biodegradable implant would overcome these issues.
Community shows support
The University of Wollongong (UOW) PhD candidate has been honoured with the 2015 Bill Wheeler Award.
Each year, the Illawarra community donates the $2000 prize in memory of former Kiama resident and champion of UOW bionics research, Mr Bill Wheeler.
Xiaoteng said he would use the prizemoney to travel to the US to further his battery work.
"I plan to study at the University of Illinois Urbana-Champaign and work with Professor John Rogers, a frontier researcher in bioresorbable electronics using soft materials," he said.
"Winning the Bill Wheeler Award is recognition from the (judging) panel of my research experience and the social impact of my research project."
Focus on bionics research
Community members attended the annual Bill Wheeler Symposium at UOW's Innovation Campus to learn more about ACES and Xiaoteng's fascinating bionics research.
Leading orthopaedic surgeon Dr Claudia Di Bella delivered the keynote speech at the event on another marvel of modern medicine, and ACES invention, the Biopen, a handheld 3D printing tool that surgeons can use to repair damaged body parts simply by 'drawing' on them.
ACES Director Professor Gordon Wallace tipped his hat to Xiaoteng and thanked the Illawarra community for their ongoing support.
"We encourage our students to reach for the stars – to be creative about what can be done with new materials in producing next-generation medical bionics," he said. "Xiaoteng has done this.
"I thank the people of the Illawarra for supporting his visions by providing this award that will help it become a reality."
Who we collaborate with