Visiting student delves into polymers in ACES visit
Visiting University of Bologna student Marco Marzocchi is in the fortunate position of having to study at a place like ACES and is working on polymers during his time here.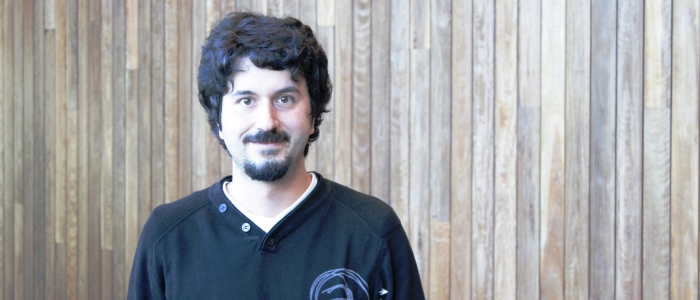 "As a PhD student we have to spend at least six months abroad," he said. "So I already spent three months in France.
"This is my last year so I had to do the other three months and actually (ACES Chief Investigator and Marco's supervisor) (Associate) Professor (Michael) Higgins was suggested by my supervisor in France.
"So I proposed it to my supervisor in Italy and she was in contact with him."
The physics student is characterising a conducting polymer during his program at ACES.
"I mean physical characterisation, so like, electrical properties, mainly AFM, so atomic force microscopy," he said.
"I'm here for that, so characterising this polymer in liquid and we are studying this for biological applications, so we use this material as a substrate for cell cultures.
"Since it's electrically active, we can stimulate cells or change the properties of the materials to improve or change the growth rate of cells – basic measurements and then if we have time, also try to do some sort of modifications in the film and change the chemistry."
Marco is not only impressed by ACES' facilities and instruments.
"Also the group itself has physicists, engineers, and biologists all together and that's great – if you have to speak with someone from another field it's easy," he said.
About a third of the way through his visit, Marco is enjoying his time at ACES, though he hasn't found Australian food quite to his taste.
"I haven't tried seafood – that could be good to try," he said.
Who we collaborate with