Robotics workshop fosters industry/academia alliances
Fruitful collaborations between industry and ACES centred on robotics are likely to emerge following a workshop that showcased the latest and emerging robotics technology.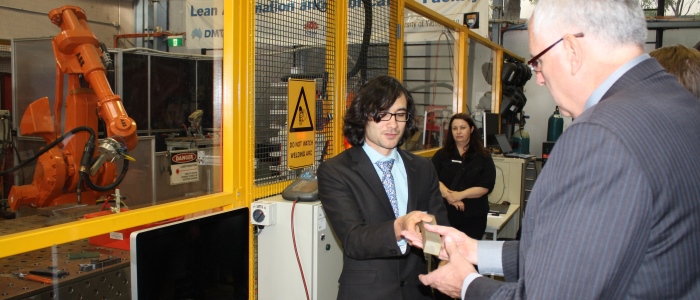 ACES continued its drive to foster partnerships with industry by partnering with the Australian Centre for Robotic Vision (ACRV) to deliver a variety of presentations and case studies, including one on their Soft Robotics program, which ACES Chief Investigator Professor Geoff Spinks said proved popular.
"There was interest from a number of the companies and researchers present regarding ACES soft robotics technologies and other potential applications for electromaterials (actuators, sensors and batteries)," he said.
Bridge building
Industry representative and Dynamic Efficiency CEO Peter Mastalir, whose business focuses on optimisation of mechanical equipment, was excited by the workshop and is keen to build a partnership with ACES to generate commercial solutions for engineering clients.
"It has proven to be an excellent forum to enable bridge building between R&D to commercialisation with profitability," he said.
Adjunct Professor and convenor of the workshop, Gary Morgan, said the goals for the event were threefold: to share researchers' research programs, for industry to talk about drivers and motivations and to understand capabilities in the region and real-world opportunities developed with industry delegates.
"The program has been designed to introduce industry to the research going on in robotics for industry to give exposure to federal government funding initiatives through AusIndustry," he said.
"This is part of the industry engagement and outreach program. It's about networking and collaboration. It's about establishing new partnerships."
Show and tell
Professor Spinks said the 'show and tell' session in which researchers were able to demonstrate their robotic systems – grippers, robot vision systems and easy-to-program robots – was particularly engaging and collaborations should evolve from the event.
"Lots of one-on-one follow-up meetings are expected," he said.
Professor Morgan said he was impressed by the willingness of the industry delegates to share their business drivers and opportunities and challenges in the sector.
"The main objective is to develop industry opportunities to utilise robotics in industrial automation across Australia," he said.
Who we collaborate with