Tenacious Rodrigo reaps the rewards
Growing up in a home in which there was no running water, PhD student Rodrigo Lozano has had to work harder than most to obtain his qualifications.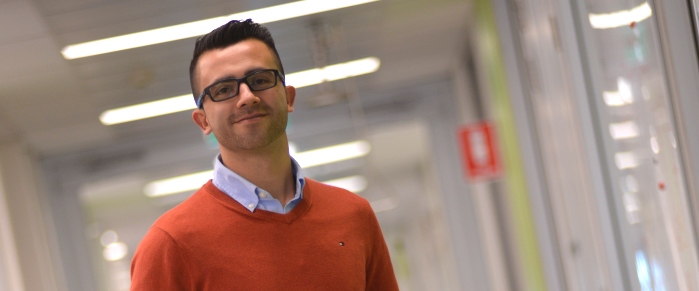 "I lived in the US but I was born and raised in Mexico," he said. "We didn't have running water; we had to take showers with a bucket. I had to start working really young – around 13."
It was this hardship that determined Rodrigo's field of study for his undergraduate degree and drove him to work many jobs – including as a book salesman, McDonald's employee, construction and roofing worker – to further his education.
"The reason I studied electronics was because the university was close to my house," he said.
It was through scholarships and a tortuous journey that Rodrigo was able to obtain a master's degree at University of Texas at Arlington in the US and this eventually led to his PhD studies at the ACES University of Wollongong headquarters, as part of Prof. Gordon Wallace's Australian Laureate Fellowship.
"I chose ACES for its incredible facilities – it has some of the best in the world – and also the international reputation of the staff," he said.
"I think the combination of facilities, staff and the enormous network provided by ACES gives me a good chance to work in any part of the world, in industry or academia."
The salsa and merengue music lover is keen to one day start his own business, following his research on developing an in vitro model to study the effect of electrical stimulation in neuromuscular junction formation.
Rodrigo said he would like to continue his exciting research work before attempting to become a business owner.
Rodrigo's PhD studies involved probing of the effect of electrical stimulation on the formation of Neuromuscular junctions  in two dimensions (2D)  and three dimensions (3D).
"At the moment the neuromuscular junction diseases do not have cure, however science has been helping and now some of them can be controlled using different therapies (drugs)," he said.
"The outcome of my research could potentially confirm the benefit of electrical stimulation (an existing therapy for other diseases) as a supportive therapy for some of the neuromuscular diseases.
"In the short-term, I would like to finish my PhD and stay in the research area as a post doc for a couple of years, preferably at ACES.
"I'd like to combine my industrial experiences with the academic world and get a bigger picture."
Rodrigo said his impoverished background has led to a keen awareness of life's gifts.
"I've learnt to appreciate all the things people take for granted," he said.
Who we collaborate with